Preparing your salmon at home is a daunting task, but it is possible to fillet it transparently using the right tools or knives. As a chef, knives are your best companion and are a kitchen specialty that accurately cuts meat and fish to give your food a beautiful shape. To get a fresh taste, it is better to fillet the salmon yourself than to bring it from any grocery store, for this you have to choose a knife which is specially designed for making large pieces of salmon. In this case, our experience and research will surely help you to pick up the right tool that's up to the job.
There are many knives that look alike but all have some unique features and abilities that we should look for when selecting according to our needs. We need to find out best salmon fillet knife and which is better for saltwater fish to avoid further trouble. But this is possible only through experience, if you do not have much idea, you can benefit from our recommendations. We present to you the top 9 fillet knives with features that are best for preparing your salmon efficiently.
Most Recommended Salmon Fillet Knives
Best Overall Choice
Rada Cutlery Fillet Knife
Best Premium Choice
Kershaw Clearwater 9
Best Budget Choice
Wusthof Gourmet 11- Inch
Best Choice: Rada Cutlery Fillet Knife
The Rada cutlery is 12 inches long, divided into a 7-inch blade and a 5-inch handle, which is good enough to cut salmon-like fish comfortably. It maintains a proper balance which is very helpful in making our job easier, and its blade edges speed up the filleting. Its blade is easy to sharpen because it is made of carbon stainless steel which gives it flexibility in cutting and separating meat from bones.
Also Read: https://knifeplatoon.com/how-to-sharpen-stainless-steel-knife/
Personally like feature is its handle with black rubber which gives a softness and comfortability to consumers to grip and security in work without any fear of slipping. This also applies to wet hands, which means that the blade and handle collectively help us do our job effortlessly.
Its razor sharp blade is suitable which needs more care and constant sharpening, to overcome it it comes with a sheath which protects from rust and keeps its edges sharp for a long period. It's easy to carry because you can attach it to your belt, and the knife handle has holes in it so you can wire it for your convenience.
Final Verdict:
We all know what it feels like to fillet a salmon when one doesn't have the right knife, but with all the positives we can say that Rada should be chosen because it can do your job the right way. It has a very balanced and curved shape which makes it easy to cut fish and other large pieces of meat flexibly. Its long blade and rubber handle provide a strong grip that is essential for making good pieces of your delicious food.
Premium Pick: Kershaw Clearwater 9'' Fillet Knife
The most important thing for filleting salmon is the knife blade which should be strong and sharp enough to do its job properly without any effect on itself. The knife is likely to break with a heavy fish if the blade is not flexible enough to withstand it. And fortunately the Kershaw Clearwater 9-inch blade is stiff and flexible, capable of giving a clean cut without breaking.
Its blade is made of stainless steel which can resist rust and corrosion so that its edges can be kept sharp for a long time and it never needs to be sharpened frequently. This is the main reason why it makes smooth and easy slices of fish every time. To protect its blades, it comes with a hard plastic sheath which is a good value and important to place it anywhere like boxes, bags, belts etc.
I must say that it is an excellent and comfortable knife for filleting large pieces of fish like salmon, catfish, snapper, tuna etc. Its rubber handle gives a strong grip and gives comfort to the man by guaranteeing that it will not slip even in wet hands. And this has been proven because many of my colleagues, including myself, have personally applied on Salmon and found it to be very effective in making clean and accurate cuts.
Final Verdict:
The blade of this knife is very sharp and flexible which makes you feel like you are cutting butter while cutting fish, and its length helps to make cuts of any size fillet in one pass. Its rubber handle is also non-slippery, which is essential for working on large fish after a great day of fishing. The sheath also protects it from rust and enhances its safety and value because care is required for its sustainability so we can say that it is a good investment.
DALSTRONG Gladiator Series 7″ Flexible Fillet Knife
This is the best craft of DALSTRONG Gladiator with all the features that every fisherman dreams of. It has a thin and thick long blade which has a lot of sharpness to easily fillet a big fish like salmon. Its flexibility enhances its performance and happily allows consumers to cut, trim and separate meat and skin from bones.
Another great feature is the material of the blade with which it is designed and it is a high quality carbonic stainless steel that lasts a long time and does not dull. Its high flexibility and unique shape allow it to move easily around bones and joints with minimal slicing resistance, which improves filleting efficiency.
To protect the blade, it comes with two sheaths, yes two, one for indoor which is BPA free sheath and the other is PLU leather sheath for outdoor. Both work collectively to maintain its edges and increase its durability.
The only thing that keeps your performance after the blade is the handle, which should be nice and comfortable for a strong grip to work firmly on large pieces. And its black G10 handle will definitely amaze you with the comfort level you get by holding it and you deserve it for your huge investment.
Final Verdict:
It's a little expensive, but it pays off as it is well balanced and sharp and no one can beat it with its flexibility which is the most considerable feature in any fillet knife. DALSTRONG is trusted by many professionals because its products take care of the comfort of consumers by providing sharp blades to easily make smooth and clean slices of meat. The indoor and outdoor sheaths are the best way to take care of this, and their regular use will help you to feel secure for a long time.
Overall Best: Rhinoreto Fillet Knife Fishing  
This is another well-developed product known for smooth filleting and cutting for large fish such as salmon. It has always been a popular knife among fishermen, enabling them to achieve good filling results with its sharp and flexible blades and to help remove salmon skin properly.
You will enjoy cutting with a 6.5 inch blade that is always sharp and ready to use, plus it has its own sharpener that we can use whenever we feel like it. One of the main reasons for its sharpness is the full tang blade, which is made of high quality steel, much more effective in controlling it.
The most important part is the handle, which is well designed with rubber that resists any kind of moisture and effectively provides strong grip. When preparing a fish that is oily and moistens your hands and knives, the grip of the handle is very effective as slipping can cause great damage. But the grip of this knife is very good and gives good results in every situation without any complaint.
With its own sharpener that we can use in a timely manner, the Rhinoreto also offers a vented plastic cover to maintain its sharp edges and carry it to any indoor or outdoor space.
Knives, sharpeners and sheath are packaged in blister packaging which adds value.
Final Verdict:
This is the best and always recommended knife for any fisherman who wants to work on salmon, it facilitates us from every angle, like it has its own sharpener which we use whenever we need. With the full tang option, its blade is flexible and sharp, allowing for clean large cuts. You will be amazed and satisfied with the control that its handle provides throughout the work as its rubber absorbs all the moisture and retains the grip.
American Angler PRO Electric Fillet Knife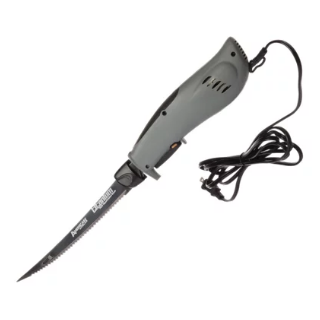 This electric fillet knife is a great invention of American Angler, good enough to fillet salmon. The power and sharpness of its 8-inch stainless blade allows users to accurately cut large fish. If you are a regular fisherman and need constant filleting, there is no better fit than this, it rotates comfortably around the bones to separate the flesh and skin.
Another great advantage is that it offers 5 different sized blades for use as per need or size of the fish, so it is suitable for small and large fish. The difference in size and features enables it to work on salmon as well as other saltwater fish effectively.
Since it is an electric knife that works with the motor, we need to be very careful while working to avoid any kind of damage, not to lose the meat and not to harm us personally. Because the curved tip of its blade is very sharp which makes filleting easy but can cause damage to our thumb, useful only for professional butchers.
Final Verdict:
This knife has more power than others, and it is more comfortable to cut. The reaction of everyone who used it was that if I had gotten it earlier, my life would have been much easier. Sometimes the motor gets a little hot but I haven't had any problems yet. I think it runs a little slower than Rapala but not enough to make a difference. So far, I really like American Angler.
Best Value: Mercer Culinary Millennia Fillet Knife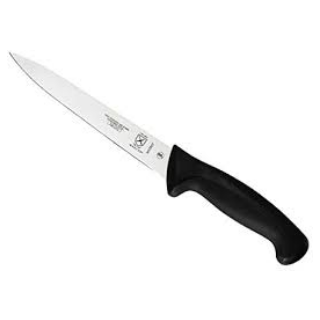 This 10.3 inch blade knife is very popular among those who regularly cut large fish, its design and ability to work attracts them the most. It is also useful because its long size makes it easy to make large slices of fish at once. Its razor blade is made of high carbonic steel, stays sharp and ready for smooth work, no need to sharpen it before each use.
If you are looking for a best salmon fillet knife then mercer culinary has slim and extra sharp blade that will work nicely. Its sharpness and thickness enables you to easily remove meat from fish skin and bones and you feel like you are working on something as soft as butter.
So let's get to the handle, which is exactly the size of a young man's hand, providing a strong and comfortable grip to work properly. The important thing is that it does not slip during work, and the handle is the same as it is made of molded plastic and has textured ginger points on it which is useful in giving slipping free grip.
The picture of the product does not indicate clearly that the symmetrical handle is made of plastic, but originally it is large, attractive, well-shaped and easy to hang in the hands even with fish oil. Nor does it indicate that the blade is symmetrical, with markings on either side, so left-handed people can easily use it.
Final Verdict:
This long knife is very applicable for making paper thin salmon slices easily, and after a long day in fishing, everyone wants their work to be done in comfort and ease and that is possible with the use of this knife. Best of all I used it for two deer, 6 salmon fillets, and plenty of chicken continuously and found that it is still as new.
Budget Choice: Wusthof Gourmet 11- Inch Salmon Slicer
Wusthof has been offering another great product in the form of Gourmet 11-Inch Salmon Slicer while maintaining its quality for a long time. It is known for its standard materials from which it is designed which enhances its durability and stability. Its blade is made of high carbon steel which is resistant to rust, due to its well balanced and sharpness ability, it is able to make salmon slices like a thin piece of paper.
Its hollow edges are always ideal for me because it makes it easier to filleting or cut salmon and other fish. But you need to take care of it and sharpen it after each use as it is good for it to run longer. The blade is incisively tempered, which makes it more easier to work especially around the backbone of salmon for creating neat fillet bites.
The handle also plays a good role in cutting as it comes with full tang, and most importantly, it is made of ABS polymer which is good to hold continuously without impact. Its three rivets make it comfortable and balanced to work securely around any part of the fish.
Rockland Guard Narrow Fillet Knife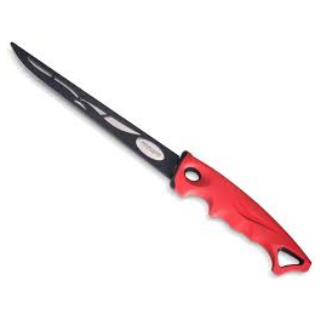 Another very suitable knife for salmon is the Rockland Guard, which has an 8-inch long stainless steel blade that is useful for making slices in restaurants and other outdoor areas. It has good and smooth results and is also easy to carry so it is considered suitable on outdoor trips for cutting large fish and food etc.
It comes with a protective sheath that secures it from corrosion and maintains the sharpness of its edges to work properly without frequent sharpening. And it really does work, with regular use of the sheath increasing its durability and enabling it to work more efficiently on large fish.
Its red handle enhances its beauty as well as our comfort as it is easy to control and able to provide safe and secure grip for continuous operation, it is built with ergonomic safety features which has increased its value and is good to prevent slipping.
42 FILLET KNIVES CONSIDERED

Top 8 Fillet Knives for Salmon 2023 Comparison Table
Image
Product
Details
Price
Rada Cutlery Fillet Knife
Blade Material: Stainless Steel
Brand: Wüsthof
Color: Black
Handle Material: Polypropylene
Blade Edge: Hollow
Check Price
Kershaw Clearwater 9'' Fillet Knife
Brand: BUBBA
Special Feature: Stainless Steel,Non-slip
Age Range (Description): Adult
Handle Material: Titanium
Check Price
DALSTRONG Gladiator Series 7
Handle Material: Stainless Steel, Bone
Color: Multi
Blade Material: Stainless Steel
Product Care Instructions: Hand Wash Only
Check Price
Rhinoreto Fillet Knife Fishing
Handle Material: Titanium
Color: Red
Blade Material: Stainless Steel
Power Source: Manual
Check Price
American Angler PRO Electric Fillet Knife
Brand: Shun
Color: Silver
Handle Material: Walnut color PakkaWood®
Blade Edge: Plain
Check Price
Mercer Culinary Millennia Fillet Knife
Brand: Rapala
Model Name: BPFNF7SH1
Special Feature: Manual
Age Range (Description): Adult
Check Price
Wusthof Gourmet 11- Inch Salmon Slicer
Brand: KastKing
Special Feature: Non-slip
Handle Material:Bone
Color: C: 7" fillet Knife
Check Price
Rockland Guard Narrow Fillet Knife
Blade Material: High Carbon Steel
Brand: Dexter-Russell
Color: White
Handle Material: Polypropylene
Check Price
What is the Best Size for a Salmon Fillet Knife?
The size of the knife is very important and this is one of the most important features you should consider before buying it. Because salmon is a large fish and requires long blades for smooth filling, most blades are 6 to 12 inches long. Blades larger than 9 inches are preferred which give good results, at the same time 8 inches is also good for medium sized fish.
With blade sizes, it is best to choose knives that have curved and flexible blades that can easily rotate around bones and joints. Also, consider the size of the handle, which is good for a comfortable grip in the hand.
How to Fillet a Salmon?
Just assuming you've picked the best fillet knife for salmon you've caught after a long day of fishing, and it's time to work on it. Before you start work, you need to go through the following points for professionals cutting.
Prepare Your Salmon for Filleting
Once you have removed its fins and head, place it on the board so that the knife can move easily. The most accurate position is: Place the top in front of you and the end of the head to the right.
Make the first fillet: Place your fillet knife just above your spine and start cutting the ribs with one motion. And when you reach the tail, cut the top of the fillet straight on the tail so that it separates it from the rest of the salmon.
Cut the second fillet: Now turn the fish over and once again place the filletting knife just above the head and repeat the process of cutting the ribs and separating the fillet from the spinal cord. When you reach the tail, cut the fillet from the body and set it aside, now you have to have a pair of fillets and one beefless spine.
Remove the rib bones: After the second fillet, place your fillet knife again just below the first few ribs and slowly place it under the ribs, making an angle toward the thicker part of the fish. Be careful not to cut too deep so that the meat is not wasted.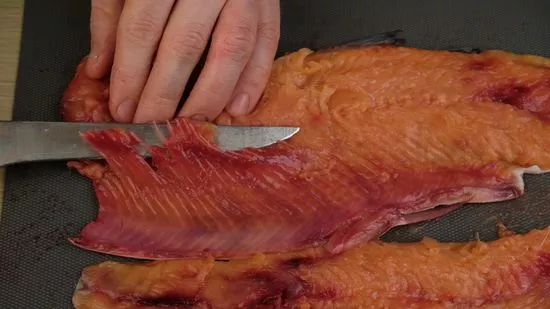 Remove the pin bones: This is an important part in which we should extract small sharp bones from fillets using needle-nosed pliers or tweezers as it's difficult to work with knives. Every small bone should be carefully checked so that no one is left and the structure of the filletting is not damaged.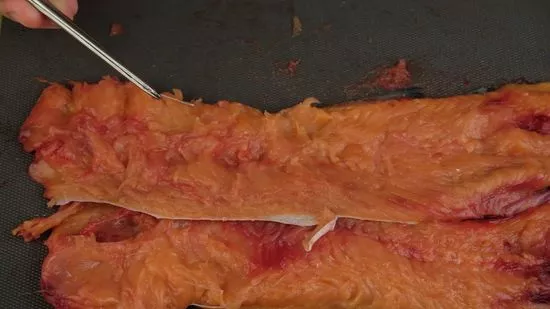 How to Prepare a Salmon Fillet for Cooking?
Here are some tips from our chefs to prepare salmon fillets that you should keep in mind when cooking.
Frequently Asked Questions
What Knife Cuts Salmon Skin?
A fillet knife is recommended for properly cutting salmon and removing skin from flesh and bones. It is better than any ordinary kitchen or boning knife because of the sharpness and flexibility of its blade.
What is a Salmon Knife?
It is a knife specially designed to remove the skin and bones of large fish, its high flexibility and unique shape allow it to rotate easily around bones and joints with minimal slicing resistance, which Improves filtering performance.
Do you Cut Salmon Before Cooking?
Yes, it is recommended to cut the salmon into slices before cooking, as Salmon is already delicate, but hot, cooked fish is even more fragile. So to get the most beautiful, clean piece, cut it before frying, baking or grilling.
How do you Slice a Piece of Salmon Fillet?
Use a sharp fillet knife with a curved blade and a tip that makes filleting easier and it is a good practice to make each slice into uniform shapes and sizes to ensure that they are cooked at the same rate. The easiest way to achieve this is to cut each fillet into 4 parts of approximately 1½lbs.
How Does Gordon Ramsay Fillet a Salmon
Ramsay started by slicing the salmon down the middle and separating the meat from the bones. He blindly cut the fish in half without wasting a single bit of the expensive flesh.
Conclusion
As we all know the importance of comfortable handle and blade size, both play important roles in cutting salmon efficiently. The handle has some notable features (secure grip, size, material, indexing point) and the blade (size (9-inch recommended), flexibility, tip, sharpness), you need to consider all of them before choosing one.
Fillet knives are more durable and sharp and not like your kitchen knives, some of the features that set it apart from others are the long and flexible stainless steel blade which is enough to make a precise cut. They never need to be sharpened frequently because their blades are capable of cutting continuously without getting dull.
All of the above knives are meeting all the filleting requirements, but our recommendations for manual knives from these options are Rada Cutlery Fillet Knife, Kershaw Clearwater 9 and Wusthof Gourmet 11- Inch Salmon Slicer as these are best salmon fillet knives, and if you are talking about for electric knives then you can select American Angler PRO Electric fillet Knife, only if you are a professional and able to control it.
Read also : https://knifeplatoon.com/fillet-catfish-with-electric-fillet-knife/
---
Recommended for you