While buying a knife for the kitchen normally people get confused between forged and stamped collections. Many different brands are producing both types of knives and declare their knives best according to best performance for chopping and cutting in the kitchen. But still it is very important to do some deep analysis about the quality and performance when you are going to buy it for your home.
The forged knife is made up of single bar steel, while making it they first heat the steel and then move it to the right shape using a hammer. During the forging process, hammering and pounding play an important role in rearranging the molecules and making it harder and stronger by compressing. As a result, the blades' edges remain sharpened for a long time.
Furthermore, these knives are made by expert craftsmen but in this modern area many companies are using advanced machinery to make beautiful forged knives.
On the other side, the stamped knives are made by cutting a large piece of steel. After cutting, it is also heat treated to ensure high stability.
In the following section, we have provided a detailed comparison of forged and stamped knives.
Forged Knives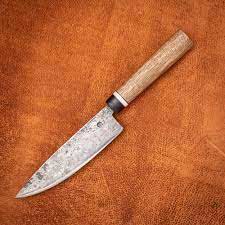 Normally the forged knives are stronger and heavier as compared to stamped kitchen knives. These get strengthened during the manufacturing and automatically add some more weight to the design of knives. As before we say that forged knives have more weight and power so they provide a firm and powerful feel while making cuts on fish and other meats. 
The thickness and power also make these knives easy to manipulate over the cutting surface – perfect for crumble operations. Furthermore, it has a rigid structure that provides highly precise cutting with its hard, flexible and sharp blade. Reinforced in forged knives that act as a natural stop for movement by adding some extra layer of protection to your fingers.
Pros
Forger knife having bolster are very stable
Forged knife are full tang knife which provide great weight distribution and balance
The whole process of manufacturing give additional power to its steel
While cutting it does not get wrap on hard surface and provide more precise results
Cons
Little bit expensive
Blade are less flexible
The full tang and bolster add extra weight to the handle which further leads to fatigue after hours of use.
Stamped Knives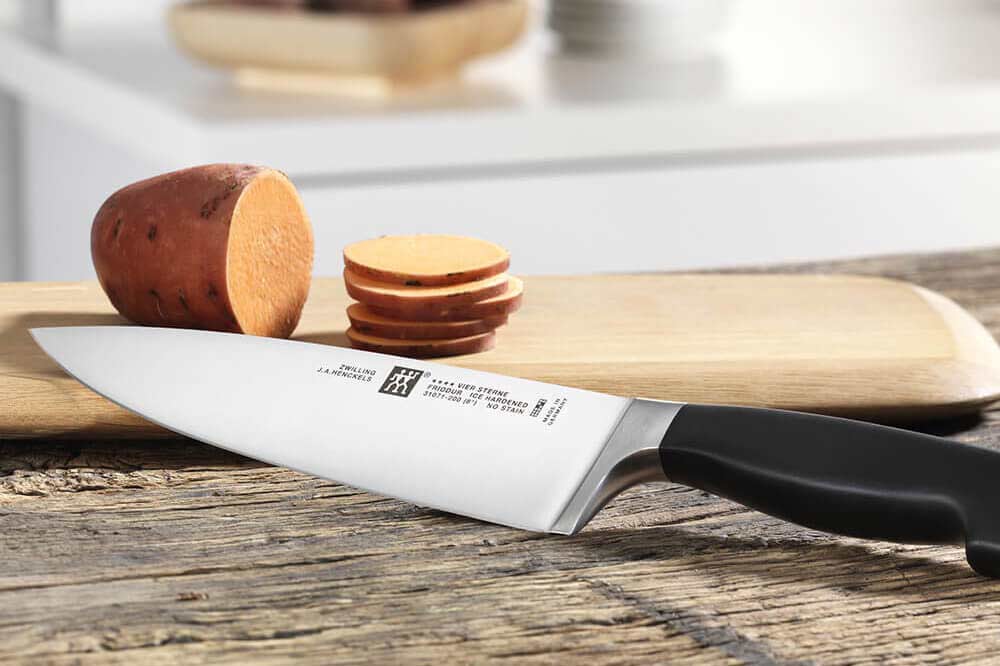 The stamped knives are obtained by cutting a large sheet of steel and once it has cutted then it is treated by heat to maintain its quality and high durability. These knives are generally thinner, lightweight and flexible. Those people who need to spend many hours in a kitchen like hotel chefs, stamp knives are a best option for those people because they have low weight that leads to less fatigue while working. 
Due to its thin shape it is also very good in slice making. Stamp knives usually have no bolster (which extends forward) so they are easier to sharpen from tip to heel. Many people say that stamped knives do not hold their edges but in my opinion it depends upon the manufacturing material, how well you use and maintain it.
Some popular brands have made stamped knives with better material to make them stronger and maintain their edges for a long time. You can say that, in both forged and stamped kitchen knives, there isn't usually much difference in long-term use between the two in terms of durability and stability.
Pros
Stamped knives are light in weight as compared to forged knives which leads to low risk of fatigue even if you use it for a long time.
The lack of bolster makes this knife more comfortable in use.
Due to thin structure, it provide easy mechanism of cutting especially while slicing
Furthermore, the thin frame also makes it more flexible.
It is cheaper in price than a forged knife.
Cons
Without bolster, it is not as well balanced as a forged knife. So it's a little bit harder to handle it.
Due to lack of bolster there is also increased chances of harm to your fingers.
Flexible blades may get bent when working on hard surfaces and reduce the precise cutting.
Which Brand is Stamped or Forged?
Friedr Dick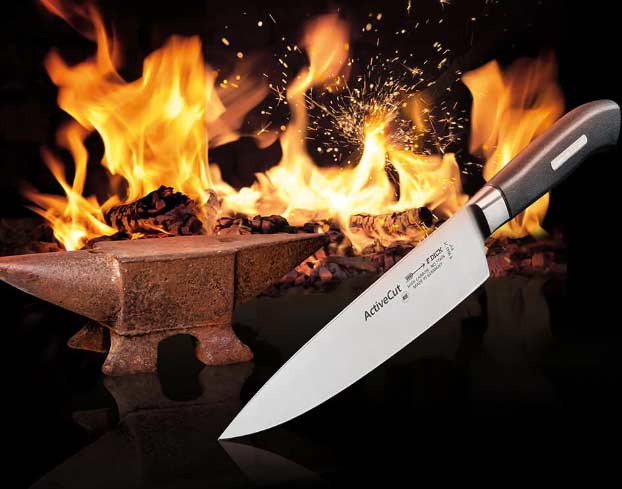 According to Friedr Dick, in the manufacturing process of forging knives the main focus is on the quality of steel used so sharpness and efficiency of structure is extremely enhanced. It has a vital role for the longevity of the advanced service. These forged knives are ideally balanced and provide an easy way for working with it.
Furi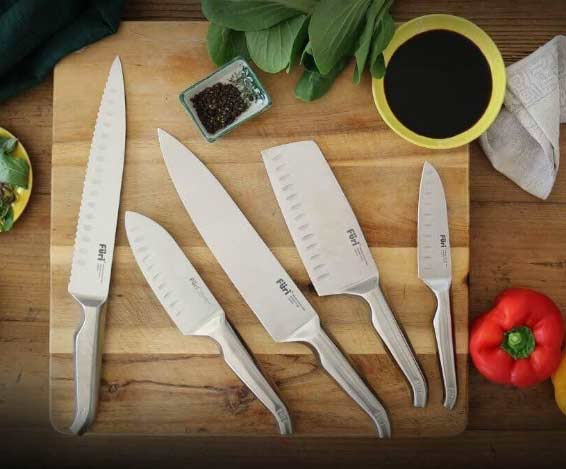 Furi kitchen knife is made with stainless steel invented by Henry, in which the blade, bolster and lower part of the knife is manufactured from a single piece.
Miyabi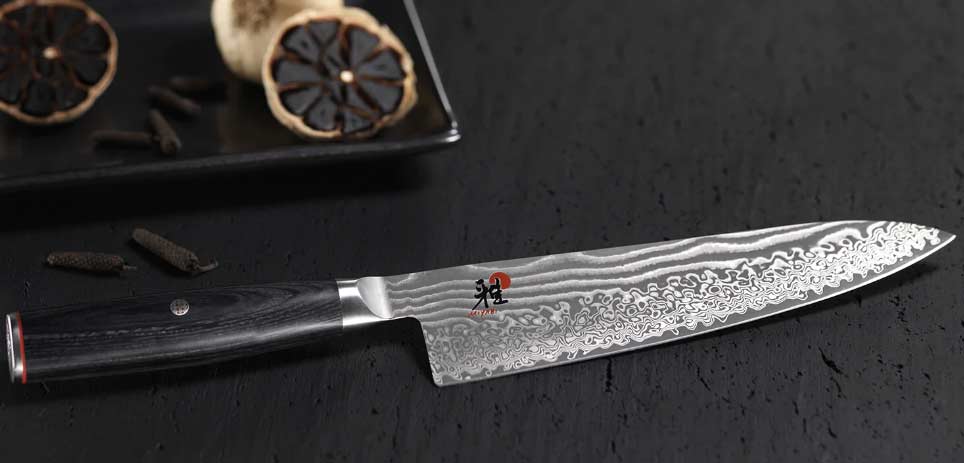 Miyabi knives show the beauty of sharpness and sophistication and follow the same forging attitude of famous japanese fillet knives.
Shun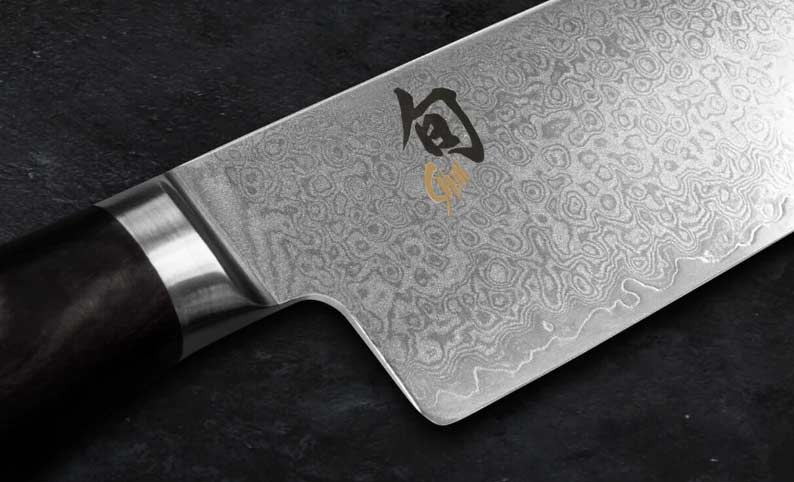 Most shun knives are made using forging techniques, but others create the knife using a single piece of steel and then sharpen it to make it easier to work with, called a stamped knife. Shin's Blue Steel line is made using forging techniques. Sheen's Classic Pro range is stamped.
Tojiro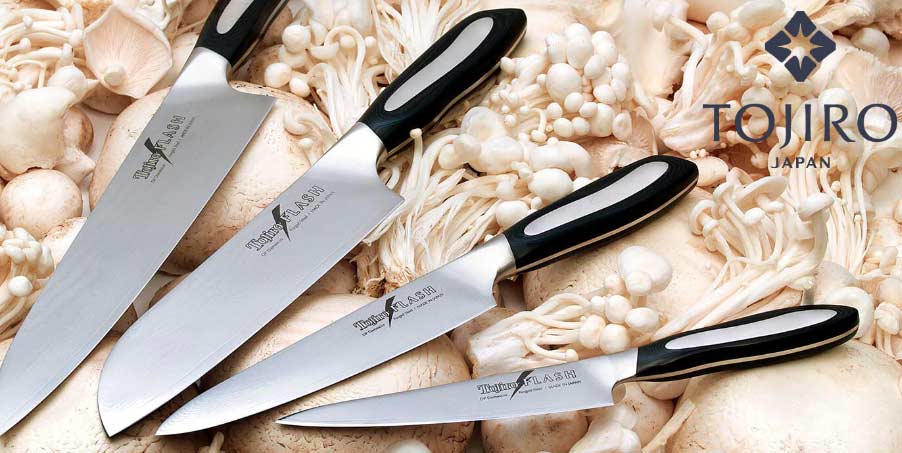 Tojiro brand heat their blades to make knives as forged knives. Tradition and innovation have been present throughout their manufacturing process. It is forged in exactly the same way as forging a Japanese fillet knife "katana". 
This brand combines traditional things with modern technology as they use clad steel material in their production and press clad steel using stamped machines. You can say that they are taking advantage of the forged worn steel and using a modern machine to make it look good.
Zwilling J.A Henckels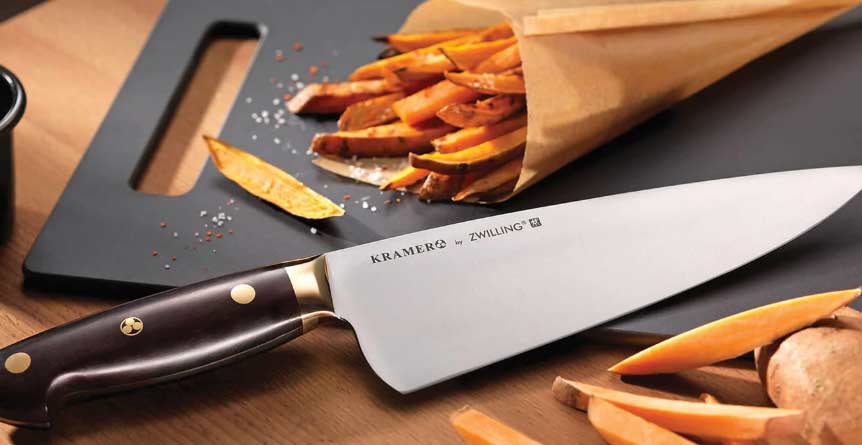 Slightly forged in Solingen (rust-resistant 18/10 chrome-nickel stainless steel material) produces a high-quality knife with the sharpest blade in the world. This item also sets a standard in high-quality cookware. Additionally, Zolling invented a new ice-hardening process for Firdos blades to obtain the best degree of hardened steel. They also produce SIGMAFORGE knives which are precision machined from a single piece of steel to produce an excellent geometry.
Forged vs. Stamped Kitchen Knives: Comparison Chart
| | | |
| --- | --- | --- |
| | Forged Knives | Stamped Knives |
| Manufacturing Process | Heat moulded and tempered | Laser-cut and tempered |
| Blade Thickness | Thicker profile | Thinner profile |
| Bolster | Yes, half of full bolster | No bolster |
| Tang | Full-tang, half-tang, or partial tang | Half tang or partial tang |
| Weight | Heavy | Lightweight |
| Blade Flexibility | Rigid | Flexible |
| Sharpness | Very sharp | Very sharp |
| Edge Retention | Holds edge well | Loses edge faster |
| Ease of Sharpening | Easier | Harder |
| Price (skip to price comparison chart) | $$$$ | $$ |
Final Verdict
Both forged vs stamped knives are good in quality and serving you for many years. The forged knife offers you great toughness and steadiness to make a precise cutting and chopping for working on hard and thick material. But if you are looking for knife having cheap price with lightweight then stampe knife will be good for you.
Moreover, you can buy both knives and use them for various tasks, by buying both knives you will als realize that which one is better for you.
---
Recommended for you