If you are looking for the best Japanese knives, the markets are full of different knives which make us a little bit confused. You can see more than 10 various styles when you look around yourself. If you are a new user of Japanese knives then takohiki, nakiri and yanagiba will make you distracted to select which one knife is good for you. In this article, we are going to discuss the most famous Japanese knives : gyuto vs santoku.

There are certain questions that will arise here like Why was the gyuto knife invented ? What is a Santoku knife used for? Which knife is best for you? And we will answer all of these questions and will resolve your conflict. The first best thing before picking a Japanese knife is to decide which one you want to use : modern or traditional knife. Traditional Japanese knives are highly sharp, but there is a big learning curve if you've never used them before. While many home chef's and professional cooks in Japan also use modern knives as it is easy to maintain and use. It also has chances of damage while using it. Gyuto and santoku are modern and all purpose knives. They are not strengthened knives, but tools you can depend on to handle most kitchen tasks.
What is a Santoku Knife?
A Santoku knife is a larger and multipurpose knife but this knife is normally smaller than a long chef knife approximately less than 21 cm and has a wide, flat blade with a quietly rounded tip. Having no curve on the blade, you can't even swing with them. It is also used for long cutting strokes, its wide blade enables us to transfer the food too. The manufacturer specially used high quality material and made it for chopping tasks.

A Santoku knife is a thin, sharp and hard japanese knife having a feature of irregular grind which means it can only be used either on the right hand or left hand. Furthermore, these knives are different from other German style knives. As Santoku have become more famous, knife makers have started to produce them with a huge range of options, meaning that you can find a Santoku with different combinations of length, metal, handle and grind. You can also get santoku knives with round edges for back and forth cuts, Although some traditionalists may argue that those knives are no longer Santokus.
What is a Gyuto Knife
The term "gyuto" is basically used for Japanese style chef knives. It is the answer from western countries regarding the demand for kitchen knives. In previous times, blacksmiths were popular for processing stagger katanas or swords and other weapons. With the passage of time, requirements of these types of weapons decreased and then blacksmiths moved to producing kitchen knives. In the traditional Japanese kitchen, chefs use a single-bevel knife, but the Western version, gyuto – is gaining more and more acceptance. Gyuto has a lot of resemblance to western chef knife shape and it also uses the same. It is almost impossible to make a thicker gyuto with a double bevel and western style handle from western chef knife. You can say that gyuto and chef knives are similar knives.
Santoku Vs. Gyuto
Gyuto is a fancy japanese style chef knife and the comparison between the gyuto and santoku knife is the same as the correlation between the chef knife and santoku knife. In our research, we found gyuto are a little bit better in all perspectives because of their piercing tip and curve for rocking cuts. While the santoku knife is used for most of the kitchen task. In pricing, the santoku knife is cheaper as compared to gyuto knife. If you want to select  a single extra knife, you can sometimes save some money by choosing a Santoku instead of a chef's knife made of a similar metal.

You may also find it useful : https://knifeplatoon.com/santoku-vs-chef-knife/
Uses of Santoku knife
The main uses of santoku knives are dicing, mincing and slicing. These knives are shorter than chef's knives and you need to be more agile while doing work. It provides a relief to your hand fatigue and tells about the fact that you have to chop. Small size santoku knives are also helpful on the cutting board or in narrow kitchens. Furthermore, santoku knives are all rounder knives which come with great comfortness, lightweight and fast working qualities. There are many recipes which require knife work, you can use a santoku knife there. The only real challenge is cutting hard foods (like pineapple or bones). Otherwise, you can probably use a Gyuto.

Check this review: Mercer Genesis Santoku Review
Uses of Gyuto knife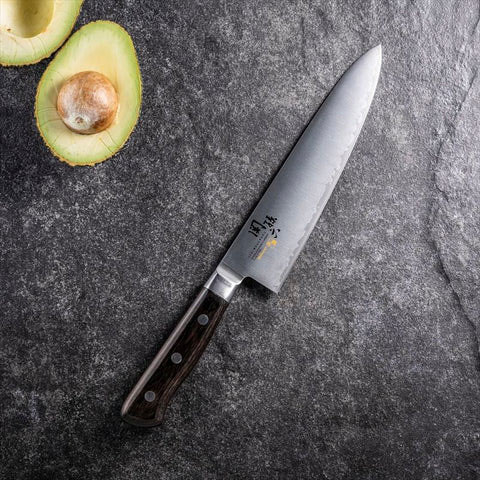 The Gyuto is a heavy-duty multi-purpose knife that can be used in many ways. It can be used to cut fruits and vegetables but it can also be used to cut meat and fish. Gyuto knives have a characteristic curved blade. This should be your go-to tool when you want to use a rocking motion technique that would be impossible with the straight blade of a Santoku knife.
FAQs
Do I Need a Santoku Knife If I Have a Gyuto?
It usually depends on your requirements and taste in the kitchen, otherwise both santoku and gyuto knives have similar functions but the santoku has slightly different blade shape which make it more suitable for various tasks. If you are enjoying a gyuto knife and found it a versatile knife for you then gyuto will be enough to fulfill your needs.
Do You Need Both a Santoku and Chef's Knife?
No, it is not necessary to have both knives in your kitchen but sometimes it also depends on your needs and preferences in your kitchen. If you prefer one over the other, or find one more versatile for all your needs, you may just need one.
What is the Difference Between Gyuto and Santoku?
The main difference between the gyuto and santoku knives is their shapes. The gyuto has a longer and tapered blade while the santoku has a smaller and extensive blade. Both knives are used for the same purposes but as the blade's shapes are different so they are used distinctly for certain tasks.
Can You Rock With a Gyuto Knife?
Yes it is possible to rock with a gyuto knife as it is large and narrower blade which make it suitable for rocking and slicing tasks.
Should I Get a 5 or 7 inch Santoku Knife?
Size of santoku knife depends upon your need and priority like if you have a small hand and want more control on cuts then a 5 inch santoku will be great for you and if you have large hands and want to makes a large cuts then 7 inches santoku knife will better choice for your work.
Is Santoku Knife Used for All Purposes?
The santoku knives are considered all rounder knives because of their high versatility in the kitchen. It is a wide and short blade knife which makes it perfect for all tasks like dicing, mincing and slicing
Final Verdict
Santoku and gyuto knives are versatile tools but if you think that you have only one knife budget then go with gyuto knife. It can do everything which santoku can do. The main key point of gyuto knives is their pointy tip and curved edge which make it more multifaceted. You don't need both knives, but if you can afford it, having a gyuto and Santoku knife available makes life easier in the kitchen. Simply, we can say that gyuto is used for cutting large ingredients, meat and rock chopping herbs while the santoku knife is used for cutting vegetables and consistent slices of other things.
Ready to buy? The top brands I recommend are Wusthof, Zwilling, Shun, Global, and Victorinox. You can learn more about these options in my The Ultimate Guide to the Best Fillet Knife Brands.