Filleting a bass may be tricky if you have not done it before. If you know how to properly clean, gutting and filleting a fish then you can easily cook a smallmouth bass and other your favourite fish quickly. By doing such an incredible task you can enjoy and eat your catch instead of throwing them back.
I have got the information regarding the food preparation and how to keep a meal safe from experts and this information will help you to prevent the food from potencial bacteria and food poisoning.
I spent most of my time catching the bass around different areas of the US as well as preparing to eat it to share my experience with my audience. Now I am going to explain my whole experience in a few brief steps which will help you to learn how to fillet a bass and enjoy its delicious taste.
The Importance of Gutting Bass
Like other digestible fishes, the internal part of bass fish is full of liquid, smell and bacteria but I know while filleting you don't want to taint your meat. By properly decimating your bass before cutting, you can protect your hard earned meat and yourself from harmful bacteria like salmonella and escherichia coli.
If it is left inside the fish then it can explode from accumulation of gases in its stomach. This will make the stomach acidic and spread into other unwanted byproducts to the rest of the fish, making the fish inedible, discoloured or smelly.
To prevent your bass fish from listeria and other harmful bacteria you should gut your fish as soon as possible and store it at 40 degrees fahrenheit temperature such as fridge or ice cooler.
Required Equipment to Clean a Bass
Like other jobs, gathering equipment before starting a work is important. The following are the right tools required for successfully fillet a bass or any other fish from start to finish.
Fillet Knife
Fillet knives are the main equipment of users which allow them to feel the fish's skin, bones and meat while cutting. Its hard and non slippale grip gives you confidence in your cuts.
The fillet knife for bass fish should be 8 to 10 inches. We can say that the knife's height should be greater than a fish. To protect your knife from corrosion, ensure that you are sharpening it regularly.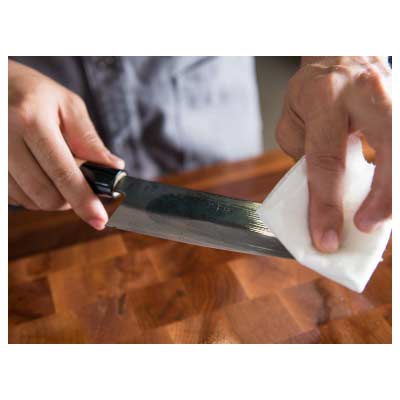 If your knife is dull then it will frustrate you when you are learning a delicate art of how to clean and fillet a bass.
Cut-Resistant Glove
Almost all fishes are slim, including bass and they are difficult to keep when you are filleting them. So right gives you extra gripping power and helps you to make precise cuts. Cut-Resistant Glove also helps prevent cutting and scratching your knife or fish fins.
Cleaning Station / Cutting Board
Before filleting a fish you need a sanitary thing where you can place your fish and start filleting a fish and keep it from bacteria. A cutting board is the best thing and you can wash it directly once you use it and prevent cross combination with anything else you may be preparing for a meal.
As for size, the bigger the better for your cutting board. Furthermore, if it's your profession then there are some special tables available for cleaning fish and you can use it.
Fresh Water
Cleaning sea bass or any bass is such a dirty business. To clean your fillet, equipment and hands freshwater is necessary throughout the cutting process.
Once you gather all the above equipment and fish then understand that you are ready to go.
Vacuum Sealer
Vacuum sealer is the best way to prevent the taste and texture of fish for a long time in the fridge. If you are storing bass fish for a small period then you should ziploc bag instead of vacuum sealer.
Trash Can
No one wants guts, skin and fish heads on their dinner table so you have to a trash bag nearby in order to put these things inside it.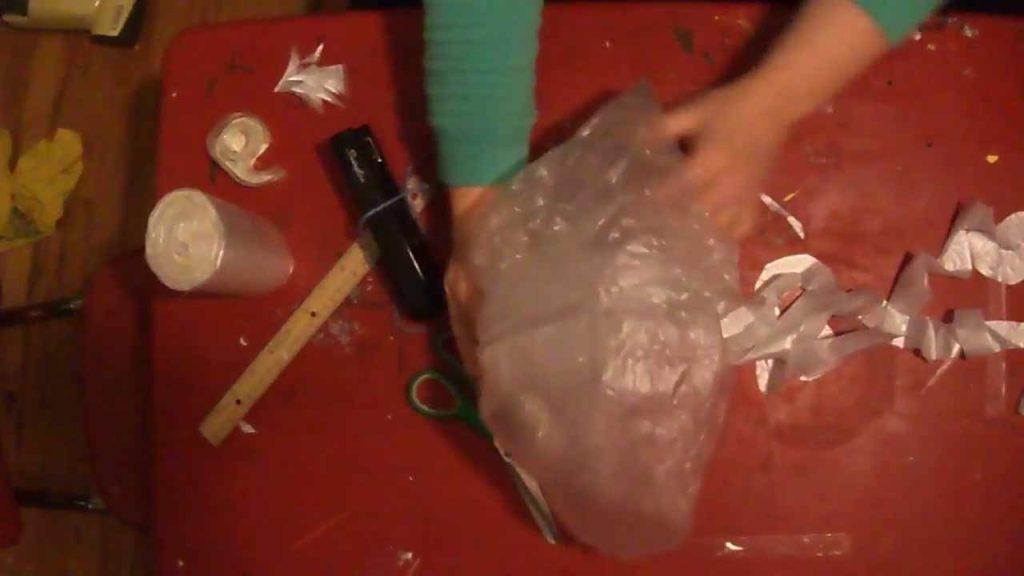 How to Fillet a Smallmouth Bass?
Filleting a becomes can be frantic when people use different methods for the same type of bass. Here you will get a neutral answer for all your questions related to how to fillet black sea bass, how to fillet white bass or any other bass. So let's go to another method.

Cut behind gills: Keep your sharp edge fillet knife at the angle of 45 degree and cut the bass behind the gills or head.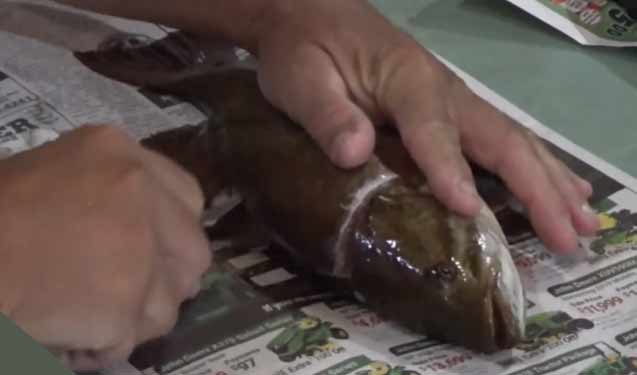 Make a cut from the top to the tail: With the tip of the knife make a flat cut on the top. Now pass the knife by the dorsal fin and move toward the tail.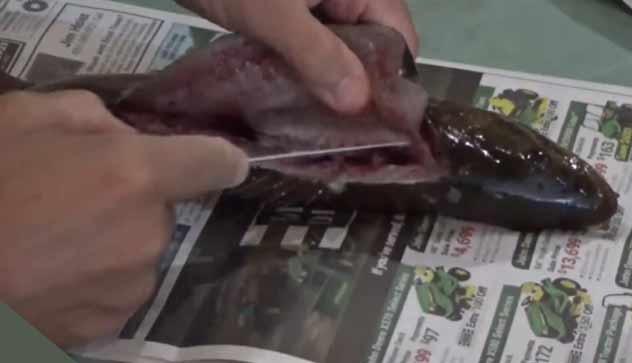 Separate the fillet from the ribs: Pull the fillets up slightly to see the cut and start cutting the meat just behind the ribs using short blade strokes. Track the ribs and detache the fillet from it.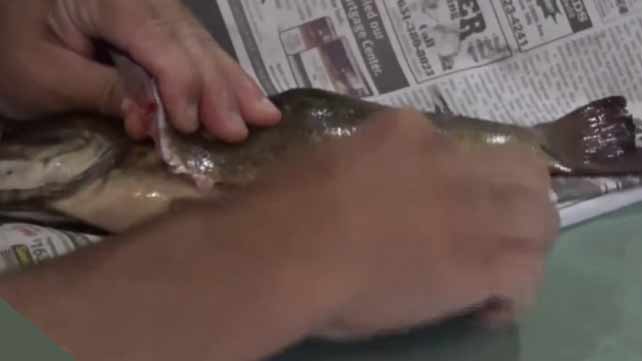 Cut towards the tail: leave only a small part of the fillet attached to the tail and continue the cutting toward the tail.

Remove skin: Now move the fillet opposite using its small part attached to the tail. Apply a little bit of pressure downward and drift the knife from the tail to the other side of the fillet. Slide the edge of the blade as near as possible to the skin and separate the fillet from the skin.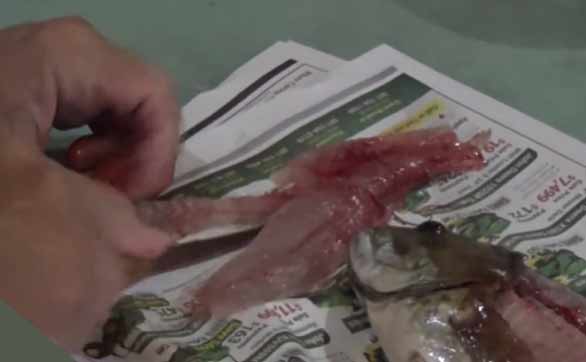 Remove pin bones: Lay the fillet and touch the centre to feel the bone of the fillet. Cut both sides of the small bones and make a thin incision in the meat and take them out.
Repeat on the other side : Now you have a perfect and amazing boneless fillet of bass fish. Follow this method and apply the same on the other side of the fish.
How to Fillet Striped Bass?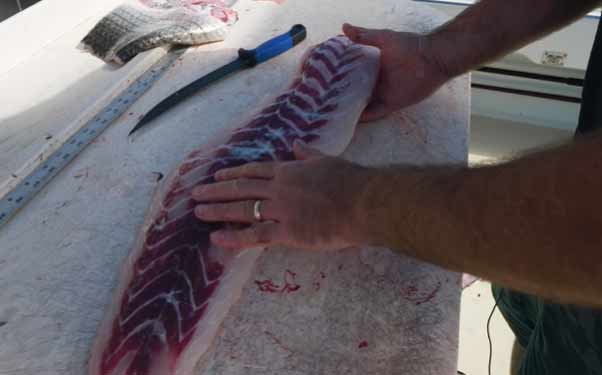 Now you know the detailed method of how to fillet a sea bass/smallmouth bass. The one method that we need to do for white bass, largemouth and stripers but not for smallmouth bass.
Larger bass such as striped bass and largemouth bass have a large layer of dark flesh on the outside of the fillet. This dark meat has a strong fishy taste and can ruin the actual taste and recipe of bass fillet. Removing a dark colored meat form striper or largemouth bass is very step when filleting it.
There are two methods available for removing dark meat while filleting striped bass.
Before Skinning Fillet
We usually hold our knife close to the skin when removing the skin. But in this case do not rotate the knife along the skin and leave a thin layer of meat with the skin. By using this method you can remove the dark meat of the fish easily.
After Skinning Fillet
Once you have done the skinning of the bass fillet then remove the dark meat from white meating through trimming. Be careful, don't waste the extra meat when you are doing skinning and trimming.
How To Cook Bass Fillet
Once you've filleted your bass and got the fillets, the next step is to prepare a delicious meal with them. Many innovative recipes call for your expertly prepared bass fillets, from baking to frying, and you'll want to try them. Here we have listed some of our favourite preparations.
Pan – Fried Bass
The blend of spice and herbs makes your fillet's taste unique and tasty. This recipe will help you create a quick meal and you can also feel it while preparing bass.
Important thing that you need :
4 largemouth bass fillets, skin removed.
1 cup flour
salt
1 tablespoon garlic, finely chopped
Black paper
4 tablespoons unsalted butter
1/4 cup fresh oregano, basil, chervil, parsley, and other herbs
2 tablespoons fresh lemon juice
Process:
Season your bass fillet with salt and pepper.
Place your pan on the grill to heat it up.
Now heat a little oil in a pan.
Coat your fish fillets in flour and stir as needed.
Now place flat on a hot pan for slow frying.
When you see your fillet turning brown, flip it over.
Remove the fillets from the pan.
Add a little butter to the pan.
Fry the chopped garlic until golden brown.
Add the herbs and turn off the heat after 1 to 2 minutes.
Add some lemon juice and salt and pepper.
Now you can serve your recipe with garlic herb butter.
Simple Oven – Baked Sea Bass
This way you make a fresh and tasty bass fish and it does not take more time to prepare.
1 lb (0.45 kg) sea bass (cleaned and scaled)
1 tablespoon extra virgin olive oil
3 garlic cloves, minced.
2 tsp fresh coarsely ground black pepper
1 tablespoon fresh parsley or Italian seasoning
Slices of 2 lemons
1 teaspoon of salt
1⁄3 cup white wine vinegar or 1⁄3 cup white wine
Once you put all these things in your fillet you just have to follow these steps.
Preheat your oven to 450°F (232.22°C).
In a small bowl or cup, combine the garlic, olive oil, pepper and salt.
Cover the fish fillets in the garlic mixture you made in the previous step.
Pour the wine over your fish fillet mixture.
Bake the flat in your oven for 15 minutes.
Sprinkle the fish with Italian seasoning or fresh parsley and return to the oven for another five minutes.
Drizzle the remaining pan juices over your fish and garnish with lemon.
Serve and enjoy your meal
Deep – Fried Bass
Bass is very resourceful and you can enjoy it deep fried with lemon wedges. You can also make your bass fillets with side dishes like tomatoes, coleslaw and fries etc.
Here are some ingredients that you will need to spice up your deep fried bass.
4 lb (1.81 kg) freshwater bass fillets
1 cup yellow cornmeal
Lemon slices
1 teaspoon of salt
Fresh sprigs of parsley
Peanut oil
These are some steps that you should follow for deep fried bass in a few minutes.
Wash the fish with water and pat dry.
Sprinkle salt to taste.
Cover your fish fillets with cornmeal and stir as much as possible.
Dip coated fish fillets in deep-heated oil at about 375°F (190.56°C).
Fry for about three minutes or until golden brown.
Remove from heat and drain excess oil on paper towels.
Serve your fish with your desired side dish and enjoy.
Honey & Orange Roast Bass with Lentils
Now here is another way to enjoy the bass fillet having low calorie and gluten free and you must try it. You will be happy to know how this recipe can allow you to leave the skin intact for some extra sustain. You can do this recipe in less than 30 minutes.
Following ingredients are necessary for preparing a recipe.
2 large bass fillets (skin on)
2 tablespoons of pure honey
Zest and juice ½ orange
2 tablespoons whole grain mustard
0.55 lb (250 g) pouch of ready-to-eat pao dal
2 tablespoons of olive oil
0.22lbs (100g) watercress
Small bunch dill, chopped
Small bunch of parsley, chopped
Process:
Preheat your oven to 356°F to 392°F (180°C to 200°C).
Place your bass fillets in a foil, skin side down.
In a cup or small bowl, mix the orange zest, honey, mustard, allspice, and olive oil.
Cover your fish fillets in foil with the orange zest mixture you made.
Twist the foil to make individual fish wraps.
Place the fish wraps in the oven for ten minutes.
Heat your lentils.
Toss the lentils with the watercress, herbs, orange juice, spices and remaining oil.
Serve the lentils topped with your baked bass fillet, and enjoy.
Frequently Asked Question's
Conclusion
If you buy bass fillets from the market for cooking then it will be expensive for you. But if you catch a bass on your own then it will be a win-win situation. Use the above filleting method to fillet any bass species and cook it with your favourite recipes.
---
Recommended for you