Sometimes you are stuck in the desert with only a few pieces of gear or unable to find a sharp knife to fillet a knife, it's not necessary that a fillet knife is always available there on time when you need it. No worries, you can sharpen your knife using various household tools with the basic knowledge of how to sharpen a knife at home without tools.
Before going deep in things, we must know what we are talking about when we use the term "Sharpening". Usually sharpening means something with keen edges. But in the case of knife, they have some more specific meanings. It means making a knife sharp by removing a metal from the blade to form an edge.
But these items will not sharpen your knife like the traditional knife sharpener does. Some of them will simply hone the edges. Yeah! Honing and sling will sharpen a knife by reforming the edges and it's not what professional knife's users typically consider as a sharpener.
Now we are going to discuss 10 everyday products which can be used for sharpening your knife at home.
Coffee Mug:

This method will help you to remove material from material from the blade for sharpening the knife. In most of the houses ceramic coffee cups are available, you can use these cups by turning the mug upside down and searching the raw part of the cup and running the knife across the mug unless you did not get desired edges. But be careful these rough parts of the bottom prevent the cup from sliding around. If this method works well for you then you will see some stain on the mug which specifies that the ceramic is removing the steel and sharpening the blade.
Leather Belt: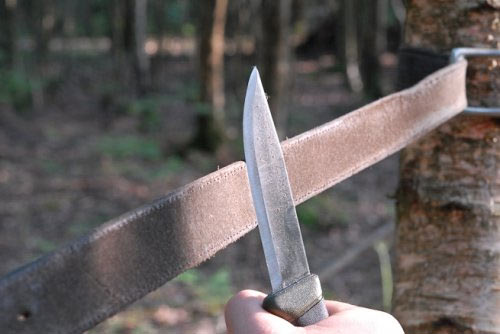 Despite the fact that strapping does not play an important role in sharpening the blade, it can sharpen the blade by reorganising the edge. Almost all of us use leather belts and it is a very easy and quick thing to strop a knife's blade. Many experts use leather straps for honing. While sharpening make sure that belt does not have any stitching and run the knife away from the cutting edge to reset the blade.
Sandpaper:

In our routine life, sandpaper is not common and it is so economical and versatile enough that it's a handy product to have around. The best tolerance will depend on the knife and how much you want to keen it. If it is possible then you should start with coarser grit and work up to finer grit for highly sharpness.
Nail Filer:

If the sandpaper is not available for sharpening a knife then the next best thing is nail file or emerge board. These things come in kit formats and basically used in the same way as sandpaper use. Now run the curved edge of the blade against the emery board. This thing will sharpen your knife fastly.
Nylon Strap:

Once you sharpen your blade with a nail file then stropping moves your blade to the next level. The nylon strap will do the same trick if you don't have a belt. Anything like leather or strap is more than enough to sharpen your knife at a high level. Make sure one thing, while running the fillet knife against the nylon strap, it should be away from the cutting edge. 
Cardboard:

Nylon is not working on your knife ? or you don't have a nylon strap for sharpening ? No worries ! You can also use cardboard boxes for sharpening a knife. You can use those cardboard that you get from amazon or knife depot lying around your house. I know cardboard is not as effective as a leather belt, nail filer and nylon strap but it can strap your knife for smooth use.  
Car window: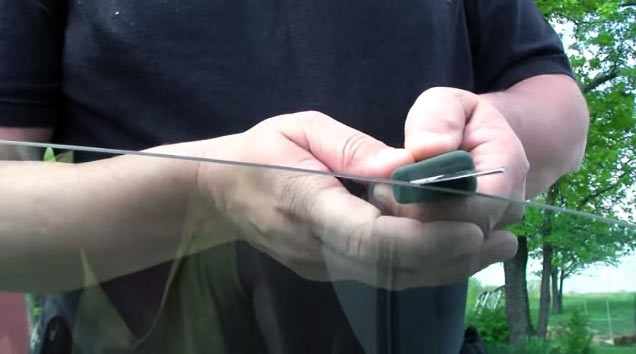 There are a lot of dumped cars with the halfway open window when things hit the fans and that thing is perfect for knife wielders out there. Car windows have become great great honing devices. The car windows have rough, rounded edges which is fantastic for softer steel. You just have to slide the blade along toward it 7 to 9 times on both sides. This process will make your knife's blade super sharp.
Spin of Another Knife:

We usually see people carrying two knives with themselves because one knife is the thick spine of the second knife. You can operate it with an unsharpened spine of blade as the same you sharpe with honing steel. And this method works well on that knife steel which has various hardness levels.
Smooth Stones: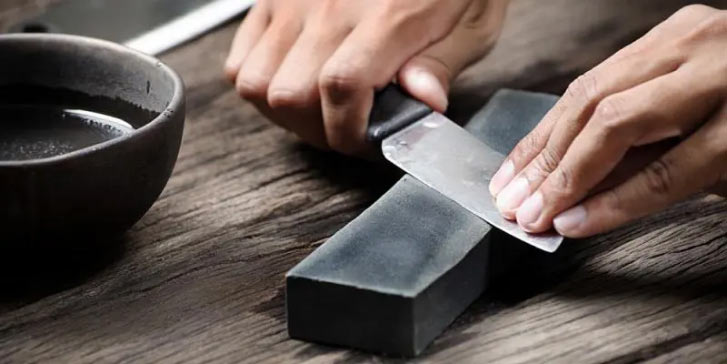 Smooth stone and flat stone is also a perfect tool for sharpening a fillet knife if you don't have any stone for sharpening a knife. The rocks in and along the river works greatly, beside this you can also make it by grinding two rocks. When you find a smooth stone, you will use it the same way that you use sharpening stone at home.
Concrete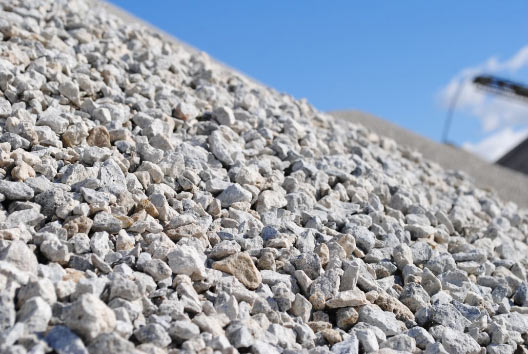 Concrete is available everywhere and fillet knives can also be sharpened through it. But this is not a good thing for your knife and it will damage your knife. So before starting a sharpening knife with concrete make sure your concrete is smooth and run the knife the same way as you use sharpening stone. Stropping later will help smooth things out a bit, and this method is the exact same as the slate method.
Conclusion
In the above section I have described methods for sharpening your knife and you can use it in your daily routine when there is nothing to use. These methods will keep your knife sharp in desperate situations at home and out of the field.
These methods must only be used in extreme cases because regularly sharpening the knife with household items can destroy your blade. You should not apply these methods on your brand new fillet knives. For new knives you can use advanced sharpening tools like a whetstone sharpener.
These tricks are good for short term solutions and for permanent solutions you will need to invest in some sharpening tools. If you think that you have any questions or want to tell more tricks for sharpening a knife at home then you can contact us via email or our contact us page. Thank you !
---
Recommended for you