The high quality santoku knife includes the maximum functionality, versatility and maneuverability in your kitchen. It's a japanese style blade which follows the three goodness such as slicing, chopping and cutting. We at KnifePlatoon wanted to experiment this theory with the famous Mercer Culinary Genesis 7″ Santoku Knife. It's our best pick for the best santoku knife overall and gives you all the flexibility you need in different cultures and Traditions require cooking.
Basic Information – Mercer Culinary Genesis 7" Santoku Knife
| | |
| --- | --- |
| Brand | Mercer Culinary |
| Price Range | $40-$50 |
| Manufacturing Country | Taiwan |
| Total Knife Length (In/cm) | 13.50 / 34.29 |
| Knife Weight (Oz/Gr) | 3.20 / 90.72 |
Mercer Culinary was originally known as Mercer Tool Corp and has been providing high quality products for decades since 1968. It is a second-generation family business headquartered in New York that ships worldwide to professional chefs and amateur consumers alike. The 7" santoku knife is one of their most advanced product due to their versatility and sharpness. Furthermore, this is also a great knife for beginners as it's an extremely high value of what you get at that price in the range of chef level knives. Because of their durability and agility, it gives improvement in your cooking and also provides comfort for those who are doing cooking for the first time. It has length of 13.5'' and weight of 3.20oz but still it does not feel bulky or weighty for use. It puts less stress on the wrist while providing plenty of room to work with meat, vegetables and other ingredients.
Mercer Culinary Genesis 7" Santoku Knife Unboxing
In contrast to many other companies who spend more on packaging and elegance than the way your knife arrives, Mercer highlights the quality of the blade. Definitely , it still prevent the knife in the packaging so you won't cut yourself with its sharp edge, but don't expect a red carpet when a Santoku knife arrives at your home. Lol. Suddenly you'll notice the premium materials when you pick up the handle for the first time.
Blade of Mercer Culinary Genesis 7" Santoku Knife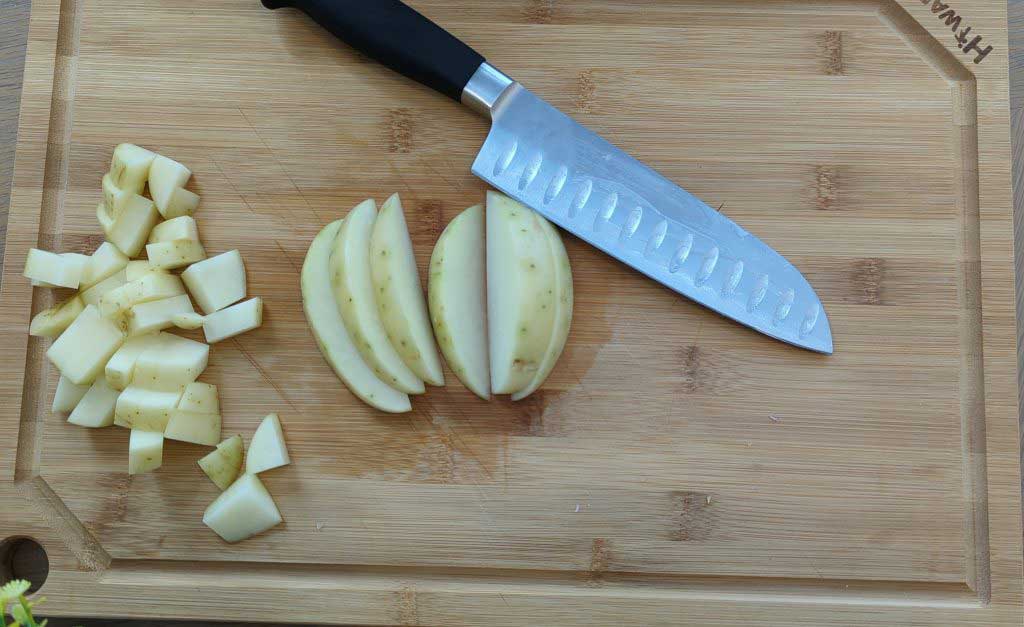 In this article, the main part of our review is the blade of a knife, it has a durable blade with a HRC rating of 56 that is great for almost all kitchens. While doing experiments with it, we are able to work the majority of the things which we tried except bones and tough veggies. One of the major features of santoku knives is their hollow edge which makes it more sharper than others in this price range which means that food sticks to the sides less. It will be a nice help when you're working with fatty meats, fish, or sticky vegetables like squash. You may find that the blade is more flimsy due to the hollowness, but with a little extra care, you can easily avoid sticking or damage. On the other hand you will need more force while cutting thicker ingredients. It is due to the light weight of the knife that it requires more effort but it's a very comfortable and good knife for your kitchen's cook. This is part of why it's a great choice for beginners and because the angle is only 15 degrees, which isn't the sharpest, but enough to get the job done for home use.
| | |
| --- | --- |
| Forged / Stamped | Forged |
| Blade Material | High carbon forged steel from Solingen, Germany |
| Blade Flexibility | Slightly flexible |
| Blade Edge | Hollow bevel |
| Straight/Serrated | Straight |
| Blade angle | 15° |
| Balance | Well balanced |
| Blade Length (Inches) | 7 |
| Blade Height (Inches) | 0.945 |
| Blade thickness/width (inches) | 0.2 |
| HRC (Rockwell Hardness) | 56 +/- 1 |
Handle of Mercer Culinary Genesis 7" Santoku Knife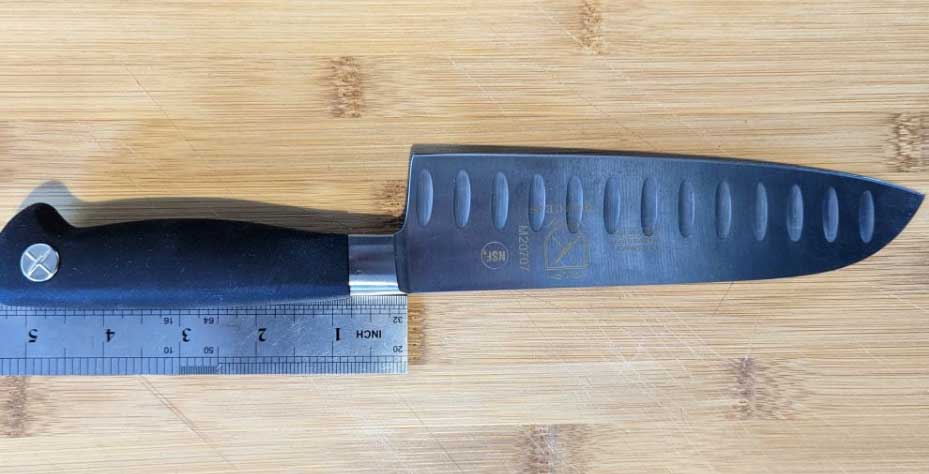 Knife handling makeup is essential for your everyday use, especially if you are new to Santoku blades. It's an honestly sharp knife with a lot of adaptability, and you want a handle that won't slip out of your hand or change angles quickly on you while working in the kitchen. The Mercer Culinary Genesis has a non-slip grip especially when you have water and oil marks on your hands. While some expert chefs may not like the feel of Santoprene, we think it's a great option for beginners who haven't spent years building speed and recognition as a working chef in restaurant management. Mercer does a great job of making handles and releases an ideal size for small and large hands. You will not feel any awkward moments while working with it. This is important because it's a full tang blade, which means you'll feel a bit of weight towards the handle. Fortunately, the bolster on this blade is clear enough to provide a firm grip for a variety of cutting techniques.
| | |
| --- | --- |
| Handle Length (Inches) | 5 |
| Handle Feel | Great comfort and safe grip |
| Tang | Full Tang |
| Handle Material | Santoprene |
| Handle Color | Black |
Uses of Mercer Culinary Genesis 7" Santoku Knife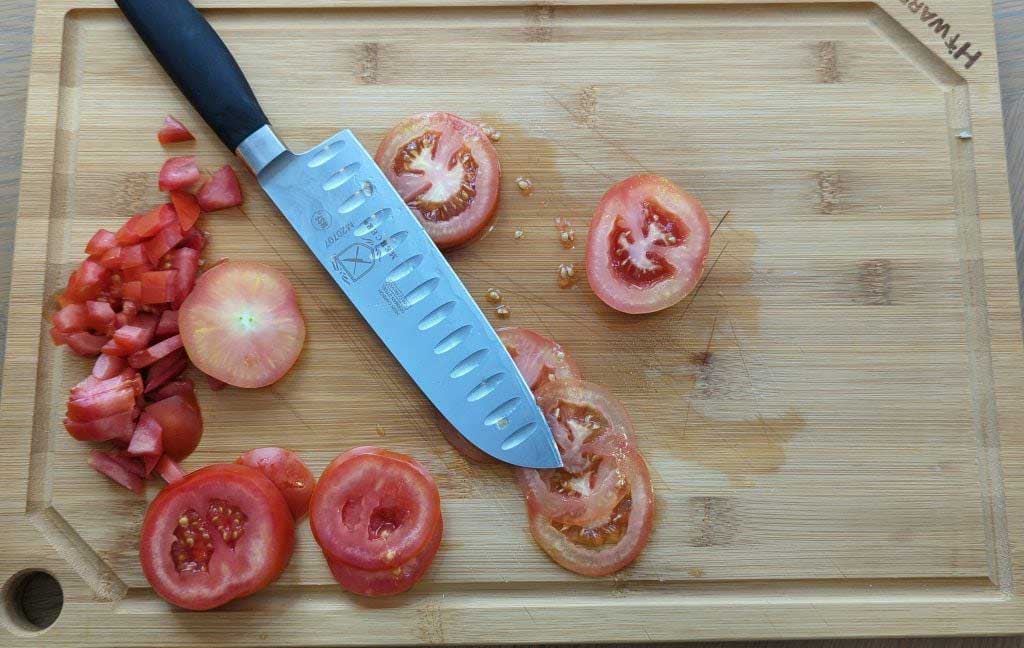 A Santoku knife meets the perfect definition of a highly performed blade. You can also say it's an all-rounder because it can help you to perform the majority of kitchen and cooking preparing tasks. By using Mercer culinary genesis 7" santoku knife, we can easily done the following goals such as:
Here we also point out that you can also use it on raw meat but it does not work well on it as compared to others. But again the hollow edge helped the ingredients stick to the sides and worked well enough for most home cooks.
Those tasks that we observed while review of santoku knife which are not did well from it are :
We should point out that this is not a fillet knife. We can do this well for a full salmon cut, but you don't get the precision because the blade isn't as narrow or flexible as a traditional fillet knife. These will help with delicate tasks, such as peeling apples.
Also Check >> Santoku vs Nakiri knife
Maintenance and Cleaning
The santoku knife is the best knife for beginners to learn how to maintain the sharpness of the blade. It has hollow edges which need to stick on honing more instead of sharpening. In this way you will remove the metal. We will not face any problem while resharpening santoku using metal honing steel and ceramic sharpeners and if you have a diamond honing steel then it will be great. As for keeping the blade clean, we should not throw this knife in the dishwasher. If you do this then you'll notice the edge dulling, and the blade discolour from too much hot water damage. We can stick the knife to a mild soap that you wash by hand and then rinse and dry thoroughly before turning into a block or putting away safely. Furthermore, also try to avoid putting the blade in aluminium pans and stainless steel sinks for a long time because it also leads to dull your knife.
Conclusion
The conclusion is, santoku is the best knife in the current market. It offers a lot of advantages with a low price range and high quality material. Our recommendation is Mercer Culinary Genesis 7" Santoku Knife for beginners and professionals as well because it provides versatility and reliability. It's one of the key pieces we want to get when moving into a new kitchen or creating a cooking space at home. Pick up one of these handy Santoku knives today, and you'll have a lot of potential as an all-rounder in your kitchen.