Many people assume that slicing knives and carving knives are similar and used for the same tasks. But that's not true, there is a huge distinction between both knives. Slicing and carving have different properties in various aspects such as the slicing knife is used to slice a thinner cut of meat, fruits and vegetables while the carving knife is used for making thick slices.
When you will know the differences between these knives then definitely your food preparation time will go down. Initially, it's important to know what is the role of slicing knives and carving knives among all other types of kitchen knife. To provide you all information about these knives we have discussed them in detail in the section below.
Carving Knife Overview
Carving knife is perfect for making thick slices of meat like roast hams, preparing turkish wrap, chicken and especially useful when you need a knife for removing cooked flesh from the bones. 
They are relatively narrow, thin and long for easy slicing when preparing your food. Furthermore, it also has sharp tips that enable you to start your cuts. While using a slicing knife make sure that your knife is longer than whatever it is you are slicing.
This way you will easily make the right cuts with your carving knife.
Basic Carving Knife Statistics
Honing and sharpening a carving knife is highly recommended because a beautiful carving will allow you to represent the meat to your family and guests in a nice way.
Slicing Knife Overview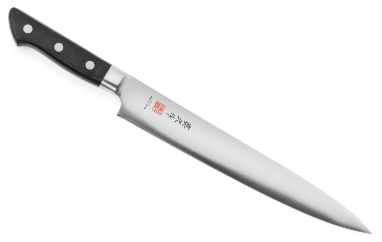 At first sight, the slicing knife looks almost the same as a carving knife. It also has a long, thin and narrow blade. A sharp tip is also often present, although it can sometimes be rather blunt. The major difference is thickness and flexibility. 
As the slicing knife is thinner than a carving knife having a blade that provides you more slices. It is considered the most demanded knife for providing thinner and delicate cuts of meat or cooked food that does not need to be boned.
It is also used in the kitchen for preparing different designs of fruits and vegetables.
Basic Slicing Knife Statistics
Just like a carving knife, it is a good to keep your slice knife well sharpened.
Difference Between Carving Knife and Slicing Knife
| | | |
| --- | --- | --- |
| Features | Slicing knife | Carving knife |
| Design | Commonly has a Granton edge. | No Granton edge. |
| Blade | Thinner, more flexible | Slightly thicker, not as flexible. |
| Edge | Straight edge with a rounded tip. | Curved edge with a pointed tip. |
| Function | Slicing thinner cuts of meat. Slicing fruits and vegetables. | Slicing denser meats. |
Thickness
Both slicing and carving have relatively thin blades but the slicing knives are thinner.
Flexibility
Slicing knives provide more flexibility for thinner and more graceful slices into cooked meats and fruits.
Design
The slicing knife has a hollow edge blade which makes sure that the meat will not tear or get stuck to the blade but the carving knife does not.
Blade and Edge
As the slice knife has a straight edge having a round tip: This is important to keep in mind if you also want to cut pieces of meat. On the other hand the carving knife has curved edges with pointed knobs that make it easy to slice through meat.
Function
If you talk about their functionality, the carving knife is specifically designed for denser cutting of meat but the slice knife is recommended for thinner cuts of meat and also can be used for working with fruit and vegetables.
Frequently Asked Questions
Is a Carving Knife Worth it ?
If you are good with your chef knife and you only need to work with roast or poultry a few times a year then you should go for buying a carving knife. But if you think that you prefer to work with a purpose-built tool and you regularly work with roast chicken or legs of lamb then a carving knife will be the perfect knife for you.
Do Electric Carving Knives Work Nicely ?
An electric carving knife can add a mischievous, periodically glance to your dining table, these tools aren't actually that cool. These electric knives have unforgiving and inexplicit behavior. So it's better to sharpen your manual knife and leave the motor behind.
Can I Use a Serrated Bread Knife as a Replacement for a Carving or Slice Knife ?
You can use a serrated bread knife to carve the roast instead of the proper use of a carving and slicing knife, but you probably don't want to. The serrated edges of a bread knife aren't designed to cut cleanly through skin and meat, so you're more likely to end up with ragged cuts of meat rather than clean, presentation-ready slices.
Final Thoughts
Hopefully, you have read our slicing knife vs carving knife comparison and this article will be helpful for you to differentiate between carving and slicing knife.
Carving knives are best for thick and heavy cooked meat like poultry and roasts.
Slicing knives are perfect for thinner cuts of fruit, meat and vegetables.
For further detail about all chef's knives you can check out knife platoon site.
---
Recommended for you