There are different sizes and shapes of knives available in the world of kitchen. But did you know that the biggest knife is smaller than the largest spoon in the world? There are three records for largest knives : Largest Utility knife, Largest Pocket knife and Largest Bowie knife.
World's Largest Pocket Knife
The people from India ( Garima foundation and Pankaj ojha ) released the world's largest knife to the group of Guinness book of world records judges on December 21, 2010. This knife is 111 inches long with a blade length of 97 inches that is available at pink square mall in jaipur india for sightseeing.
World's Largest Utility Knife
Olympia Tools disclosed its TurboPro AutoLoader, the world's largest utility knife, during the National Hardware Show in Las Vegas, NV on May 1, 2012. A copy of the utility knife, in an effort to bring more people to its trade show booth. It was very big and was used to demonstrate the ease of changing the blade of the autoloader and the blade is very large as well.
World's Largest Bowie Knife
It is the type of fighting knife that was created by experts of engineers and builders from the area led by hardline leader Bob Hadley. The knife with the monument was named the largest of its kind by Guinness World Records in 2016.
It was disclosed in the town of Bowie having weight of 3000 pounds, 20 feet long with a 14 feet wide and 5 inches long stainless steel blade.
It was also added in the Guinness world book of records. The time and investment which is used for making the largest bowie knife is three years and 170 thousand dollars.
Furthermore, it is also a source of boon in the area of Texas. Both town and knife were named "Bowie" from James "Jim" Bowie, who had the best role in the Texas revolution and battle at alamo. Bowie was also known for his bravery and famous fighting knife which earned him great respect.

Read Also : https://knifeplatoon.com/sharpest-knife-in-the-world/
World's Largest Swiss Army Knife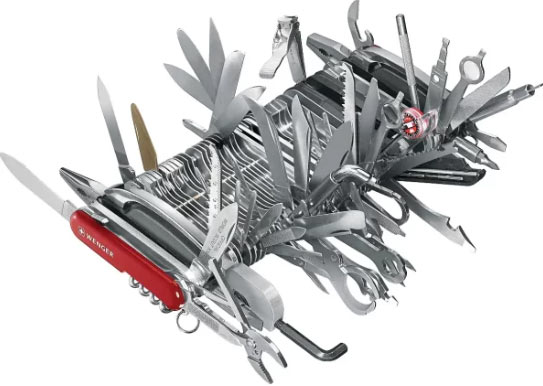 If you use knives on a daily basis then swiss army knives will definitely be available around yourself. This is a pocketable tool which can be very helpful in your house or outside as well. 
It looks a little bit funny that the world 's largest fully functional swiss army knife comes with an impressive size. If you are so inclined and want something like that tool which can do everything, this knife is specially for you.
World's Largest Penknife
Let's come to discuss some more practical everyday knives away from the kitchen knife.  This world largest penknife was produced by folks at Red Hills Cutlery in Radcliff, Kectucky, USA on 9th january 2019 according to the Guinness World Records. 
Jason Basham ( a member of red hill cutlery business ) decided to do something that caused them to add their company name into the history book and they invented the 10.52 long penknife.
The estimated cost used for their production was $75k and unlimited hours to accomplish it. The resulting tourism has definitely been worth it in the end!
World's Largest Kitchen Knife – Maguro Bocho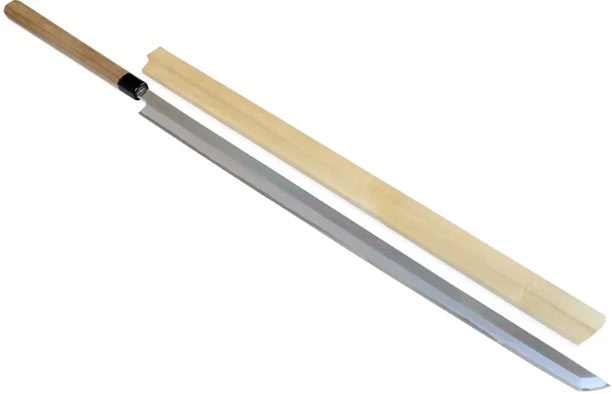 The Maguro Bocho kitchen knife is a Japanese tool which is highly remarkable, long and specialised. This knife is very expensive and associated with a rich heritage of function and dignity.
The main purpose of Mauro Bocho knife is filleting tuna and other fish from the ocean. Due to their size, it is a great knife for cutting entire categories of fishes in a single moment. It will work like a sword in your kitchen but not as a weapon.
Final Verdict
In this article, we have provided multiple examples of the world's largest knives. It all depends on what angle you're coming at it from. From town monuments to massive military equipment, there are plenty of options for the discerning knife user.