All chef's that are working in restaurants or at home need more than one knife. Some knives are uniquely designed and used only for specific things like serrated knives, bread knife knives are used for slicing crusty breads. While the paring knife is useful for doing mini tasks like trimming a strawberry. But what do you think about that knife whose blade can work for almost all types of tasks?
Yes, Right. We are talking about chef knives. It can be used for almost anything, from breaking down a chicken to preparing a watermelon on a picnic. Here, we will discuss what things make the chef knife separate from other knives and will also describe what it is best suited for and how to take care of it. what makes this knife special and why you need it in your knife block.
What is a Chef Knife
Chef knives originate from Thiers, France, the knife making capital of the world. They still produce their chef knives there to the present day, where they are crafted with the care of the fifth generation of bladesmiths. The normal and most size of this multi tasker kitchen knife is 8" but beside this, it is also available in smaller 6" to larger 10" blade sizes.
How Do You Cut with a Chef Knife ?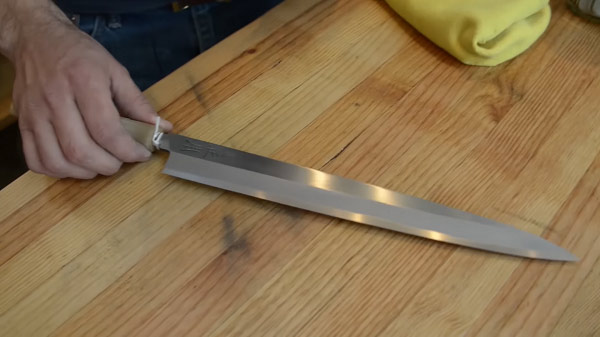 The thing which attracts the users toward chef knives are their sharp pointed tips and slightly curved blade. Chef knife's blade is differ from the straight blade of japanese knives like santoku and Nakiri and it is the perfect knife for rocking method of cutting. The rocking method got its name because the design of the chef's knife makes it easy to rock the knife back and forth from tip to heel. It is also helpful for removing small ingredients from the cutting board which stick while cutting.
What is a Chef Knife Used For ?
Chef knife is a multi-purpose knife as compared to other knives. It is used for small tasks like mincing herbs or chopping a carrot as well for large tasks including preparing a chicken or slicing a ham. Moreover, you can also use a chef knife as a replacement of a carving knife for carving a meat and remove the meat around the bones. A chef's knife is almost always at work whenever you need it. There are also situations when you will need other knives for doing tasks like slicing a bread, peeling fruit or vegetables and fragmentation of onions. Chef knife is also good for onions and we recommend a santoku for working with vegetables having high water content. Since the grooved blade prevents them from getting stuck.
This May Help You: https://knifeplatoon.com/carving-knife-vs-chef-knife/
Benefits of Chef Knife
A chef knife is an important piece of equipment in every kitchen as you need it for routine tasks. It helps you with pre-meal preparation, chopping, slicing and dicing ingredients. A chef's knife has a curved blade that allows you to make gentle movements, which are essential for slicing and slicing. Derived from 64 layers of forged Damascus steel, Le Creuset's Chef's knives are designed for multiple uses. A chef's knife can also be easily sharpened with a honing rod and whetstone. This multi-purpose knife offers complete control and precision and is essential in the kitchen.
Take Care of Chef Knife
It is important to keep your knife properly sharpened so that you can protect it from damage. If you are using it daily, you should sharpen the knife 4 times a year or seasonally. Honing is important for knives because sharpening removes steel from your blade and honing takes it back. For more information on honing and sharpening, watch the video to watch knife expert Sergio Menchaca demonstrate how to do both, or check out our complete guide to knife care.

Are You Ready to Shop ?
The chef knife is a full tang and fully forged knife designed with a stainless steel rod from the tip of the blade to handle it. These things make it a well-balanced and strong knife with a normal weight, no weak points and no fingers cracking into the handle. If you don't have such an amazing tool, buy it. The 8" Chef Knife with Blue Carapace Handle was the first limited edition knife introduced in 2019. Having been made in limited quantities, they are gone forever.