In chef's equipment, the most important and powerful tools are their knives. Selection of the right knife helps for cooking food fast and easier. There are millions of knives available on the market and finding that kitchen which is suitable for you may be a little bit difficult. And also you cannot find the best kitchen knife for yourself until you don't get knowledge about them. So here, we have described the detailed definition of kitchen knife and explained their types in order to help you to find the best kitchen knife for yourself.

What is Kitchen Knife
A kitchen knife is a type of knife that is used in the kitchen for preparing food. It includes everything from paring knives and steak knives to chef's knives and santoku knives. There are different types of kitchen knives, some of them are made with stainless steel and others are made with carbon steel that are used for numerous tasks.
Must Read: https://knifeplatoon.com/carbon-vs-stainless-steel-knife/
Below section 10 most commonly used kitchen knives have been characterised.
Chef Knife
Chef knife is the most demanded kitchen knife, that's why it is a compulsory item in every kitchen. Its second name is cook's knife that has a long and wide blade with taper sharp edges. The design of chef's knives allow their users to move back and forth movement for fast chopping and mincing. It can easily cut the food in no time with their straight edges strokes. The blade length variations come from 6 inches to 12 inches but 8" blade length is the most popular size.
What is a Chef Knife Used For?
Utility Knife
It is the mixture of a paring knife and chef knife as it is longer than paring knife and confined than chef knife. It provides very precise cutting jobs where chef knife's use is bulky and paring knife is small. It can also work like a serrated knife to handle a variety of tasks. The utility knife's blade length is  5" to 9" and 6 inches is most famous.
What is a Utility Knife Used For?
Cleaver Knife
Cleaver knife is the father of all kitchen knives which can break down the bones, meat and other dense food. It has a wide and short blade resembling an ax having straight edges. These things make the cleaver knife useful for cutting and hacking with an up and down motion. Furthermore, there are two types of cleaver knife : meat cleaver which is used for preparing a meat for cooking and the other one is vegetable cleaver that is used for chopping vegetables and slicing through a fish with their thinner blade. A cleaver blade range is 4 inches to 10 inches and 7" is popular and most used length.
What is a Cleaver Knife Used For?
Paring Knife
Paring knife comes with a light weight having a pointed tip which makes it very graceful for working. If we are talking about its blade range which is 2 ¼" and 4 ½" with straight edges to handle for different tasks. The most common and demanded style of paring knife is bird's beak, spear point and sheep's foot. This name has been taken according to the shape of the blade.
What is a Paring Knife Used For?
Butcher Knife
Butcher knives have a lengthy and curved blade with a sharp point at the nob, which helps cut meat cleanly and easily. It also has straight edges which allow the user to make a slice of meat easily without any wastage. Its blade length variation is 5" to 12" but 8 inches to 10 inches blade is the most used size.
What is a Paring Knife Used For?
Bread Knife
Bread knives have a long size blade having serrated edges that is perfect for splitting soft items and keeping them maintained as well. These knives have a balanced handle which is specially designed to prevent the user's knuckle (a joint of finger) from hitting the cutting board. The blade size varies from 5" to 14" and 8" to 10" is the most commonly used size.
What is a Bread Knife Used For?
Boning Knife
Boning knives come with narrow and wide blades, they also have different qualities like flexible, semi flexible, stiff options and depending on the type of meat which you are going to cut. It also depends on how moveable you need to be. I.e. Narrow, flexible blades are perfect for cutting and shaping sheep parts, young cows and fish. On the other hand, a wide, stiff blade is perfect for carving beef and pork. The length of the boning knife range is 3" to 12" and having 6" is most popular.
What is a Boning Knife Used For?
Oyster knife
Oyster knife is an essential tool for all restaurants for the exclamation of crawfish. There are different types of oyster knives used to open the various oysters but they all use a common pointed tip that's perfect for opening crawfish shells. Boston style oyster knife is a commonly used knife that has a long and narrow blade which is very effective for opening the oyster regardless of their sizes. Due to that feature, boston becomes the perfect knife for beginners to shucking the crawfish. It also has an hourglass shaped handle which is very comfortable and secure for use.
What is a Oyster Knife Used For?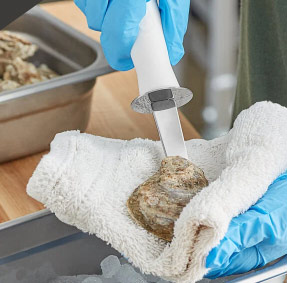 Carving Knife
Carving knife is also called a slicing knife that comes with a long and narrow blade taper to sharp point. It is thinner than a chef knife so it can easily carve thin and uniform slices of cooked poultry and large roast pieces. It has become the best knife for carving stations at different catered events. Many slicing knives have deviated edges, which bring down drag and protect the meat from tearing while cutting. Its blade size range comes from 8" to 14" and 10" is the most used size.
Also Read: https://knifeplatoon.com/slicing-knife-vs-carving-knife/
What is a Carving Knife Used For?
Cheese Knife
Cheese knives are small knives made specifically for cutting and slicing cheese. A variety of knives with different lengths and styles of blades designed to work with soft, semi-soft and hard cheeses. Some knives have holes in the body to prevent the cheese from being wasted. These knives are a good choice for use in restaurants and catering events that cafe shops and pubs offer on their menus to enhance the customer experience.
What is a Cheese knife Used For?
FAQs on What is kitchen knife

Final Verdict
We have already discussed that knives play an important role in every kitchen. Its importance also depends on what you need from the knife. Generally we observe that chef knives are the most versatile and are used for various tasks. If you're looking for a specific type of knife for a specific job, be sure to do your research to find the best option for your needs.
---