Reviewed by Knife Platoon team, Based on Methodology v 1.0
Brand Wusthof
Collection Classic
Model 1040104120
Manufacturing country Germany
The Wusthof classic 8 inches extra wide chef knife is a versatile, high quality and comfortable knife which is produced in Germany by the Wusthof brand. It is designed for both home and professional chefs which is the part of their classic collection and gives great performance in different cutting tasks. The wusthof price is near to 200$ and it is NSF certified that makes it a reliable and efficient addition in all kitchens.
The Bottom Line
The Wusthof classic 8 inches extra wide chef knife is such a well balanced, flexible and high quality knife which gives sharpness, safety and durability features. It has an ergonomic and comfortable handle that ensures a strong grip and easy cutting experience. Furthermore, its extensive blade and typical design make it ready for different cuts. It is slightly heavy which causes fatigue when you use it for a long duration. It comes with a higher price, but its entire performance and value make it a valuable expenditure for both experts and home cooks.
Price : 200$
Learn About Wusthof classic 8" Extra Wide Knife
Knife Specification & Visual Inspection
Dimensions
| Knife Attribute | Imperial | Metric |
| --- | --- | --- |
| Knife Length | 12.4 inches | 31.5 cm |
| Knife Weight | 9.73 ounces | 276 g |
| Blade Length | 7.874 inches | 19.9 cm |
| Blade Spine Length | 0.118 inches | 3 mm |
| Blade Heel Length | 2.205 inches | 5.6 cm |
| Handle Length | 4.528 in | 10.81 cm |
Construction
| | |
| --- | --- |
| Knife Attribute | Value |
| Knife Forging Method | Forged |
| Knife Tang Type | Full Tang |
| Hardness (HRC) | 58 |
| Blade Material | Stainless Steel |
| Blade Steel Grade | X50CrMoV15 |
| Blade Finish | Hand Polished |
| Blade Geometry Grind | Flat |
| Blade Grind Angle | 14 (each side) |
| Blade Bevels | Double |
| Handle Material | Polyoxymethylene (POM) |
The Knife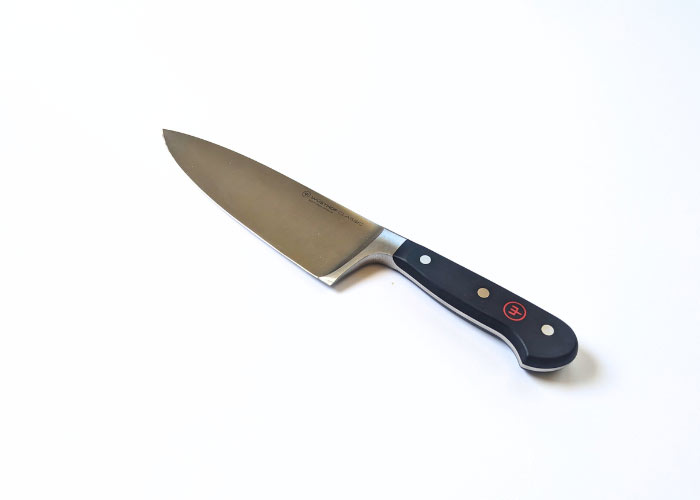 The entire length of the wusthof is 12.4 inches while the blade length is 7.8 inches and handle is 4.5 inches extended. Its weight is 9.7 ounces, which makes it slightly heavier than most of the chef knives in this measurement range. The blade is made of high carbon stainless steel. Its full tang building, high quality blade and handle materials and perfect sharpness make it suitable for an extensive range of cutting works.
Blade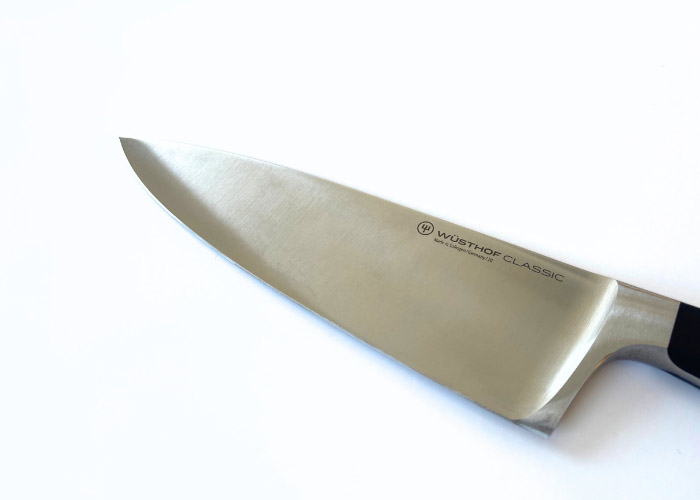 The Wusthof classic 8" inches knives made with high standard steel that uses Wusthof's proprietary X50CrMoV1 steel formula ensure the sharpness quality, edge retention and durability of blade and are easy to use. The rockwell hardness level is 58 which emphasizes its toughness and strength. The edge of the blade is ground flat with double bevels and beveled at an angle of 14 degrees from each side. The most distinctive feature of a wusthof knife is its 2.2 inch wide blade and spike width is 3mm that is comparatively thicker than others. Furthermore, it characterized a lateral taper towards the tip. The blade also features a full bolster with an orbited and noticeable facing point for added safety and control.
Handle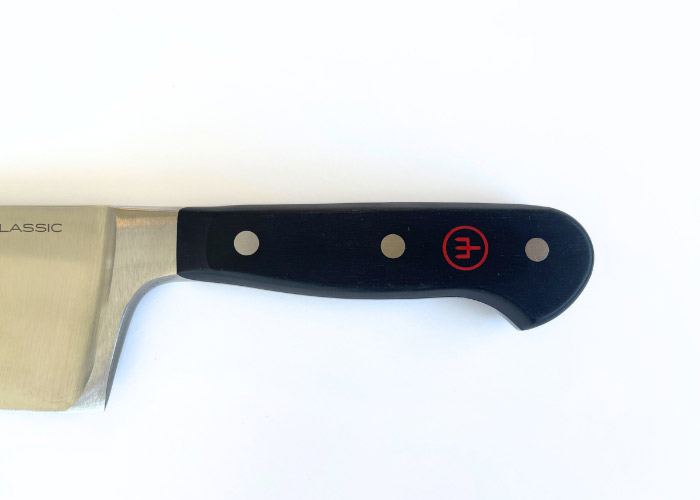 Polyoxymethylene is made for manufacturing of handles which make it comfortable and durable. It has an outline shape and plane texture. It comes in Black, White, Coral Peach, Pink Himalayan Salt, Purple Sweet Potato, Yummy Sumac, and Velvet Oyster. The handle features Wusthof's red trident logo, three rivets and a guard on the base for added well-being and strength. The handle is suitable for both right- and left-handed users, ensuring adaptability and easy to use for all experts and home's kitchen experts.
Knife Platoon Testing
Performance
Performance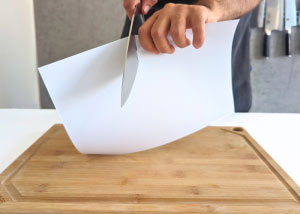 The testing by the knife platoon team confirmed that wusthof classic 8 inches extra chef knives execute well in pieces of work like slicing, dicing and mincing. It reveals appreciable sharpness, easy to cut using very little effort. While the edge retention may not be as extraordinary as initially claimed, the knife still keeps a sharp edge for a long period and can be re-sharpened with proficiency. The composition of high edge retention and sharpness make it a trustworthy and well organized knife for all kitchens.
Sharpness
The knife comes with a nice sharpness and enables the users for slicing easily through their delicate and heavy material. We tested this knife on paper and it did it well and when we use it for cutting soft tomatoes then it needs a slight force.
Edge Retention
The knife has very good edges when it comes out of the box but some testing notes tell us the edge retention is great as promised. Although, the wusthof classic knife has capability of maintaining sharp edges for a long duration of period and It was relatively easy to resharpen, making it a reliable tool in the kitchen.
Functionality and versatility
Functionality and Versatility
The Wusthof classic 8" inches knife has a highly functional and versatile tool, being an excellent tool in a high range of cutting techniques such as mincing, slicing, peeling, chopping, butchering and cleaving. Its full tang forged form and high-carbon stainless steel blade make sure the strength, fortitude and durability, while the extra-wide blade and distal taper provide perfect leverage and capability.
Leverage
The wide blade and full tang construction give excellent leverage and make it perfect for different types of work. Its design allow to apply efficient force for making precise and managed cuts. The weight of the knife helps the user apply more force to dense ingredients.
Strength, Toughness and Durability
The knife is just built for long lasting, because it is so strong. The knife's full tang, forged forming ensures strength, rigidity and durability. Add to that a hefty spine, full bolster, and plenty of weight, and you get even more power-wise performance. The high carbon stainless steel blade is strong and flexible, allowing the knife to withstand tough use in the kitchen.
Dexterity and Maneuverability
The wusthof knife gives good dexterity and maneuverability even with heavier weight. The manufacturer designed it for easy handling, make good control and nice choice for a wide range of cutting approaches. The distant taper (blade taper at the tip of the spine) allows for more delicate knife work with the tip.
Flexibility
The wusthof has a strong and rigid blade, due to that reason it is good for those tasks that require force and accuracy. But the lack of flexibility may result in losing meat while doing filleting tasks. To handle the filleting work you need this knife with a more flexible blade.
Technique Versatility 
The Wusthof Classic 8 Inch Extra Wide Chef Knife is extremely versatile, accomplished well in a variety of cutting methods such as slicing, dicing, mincing, slicing, peeling, filleting, butchering and cleaving. Its sophistication, control and balance make it a great choice for both professional and home cooks.
Feel and Experience
Feel and Experience
The Wusthof Classic 8-inch Extra Wide Chef's Knife is made along with comfort and experience in intelligence. Its high profile polyoxymethylene handle, full bolster and full tang manufacturing contribute to safety and comfort grip which provide great solidity and control while doing tasks. The steadiness of the knife is splendid, responding well to a diversity of grip types and procedure. Even though it's a little bit heavier weight can cause fatigue during prolonged use, the knife's complete balance, comfortable handle and efficient cutting performance help minimize this problem. The mixture of these factors, along with the knife's construction and design, make it a reliable and enjoyable tool for both expert and home chefs.
Grip Stability and Control
The design of the knife handle comes with a plame texture and reinforcement, ensures excellent stability and grip control. The full tang production also participates in blade control, allowing for decent and accurate cutting.
Comfort and Ergonomics
The knife obviously originated with comfort and user friendly in mind. A smooth handle made of polyoxymethylene (POM) provides a comfortable and prevented grip, while a full bolster that acts as a finger guard ensures extra safety and durability. The knife perceive nice in the hand, and the grip feels very secure, making it fit for broad use in the kitchen.
Fatigue
A little bit of substantial weight of the knife can cause exhaustion during prolonged use. However, its great balance, comfortable handle, and efficient cutting ability help decrease fatigue. Users with more strong grips and wrists may not find the knife comfortable enough for elongate use.
Balance
The knife offers magnificent stability and precision for any cutting work. Our balance tests show that the knife counters singularly well to all types of grips, including strait grips, handshake/thumb grips, and fingerprint grips.
Maintenance
Maintenance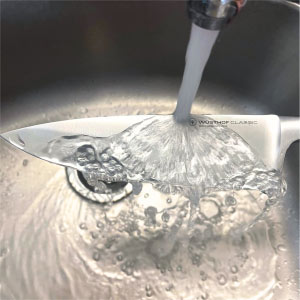 Entirely, the wusthof classic 8" extra wide chef's knife gives a wonderful balance between performance and ease of maintenance. The blade is made with high carbon stainless steel, hand polished finish, forged built-in, full tang which participates in its resistance against rust, stain, corrosion, wear, tear, defect, incise, perfect knife's strength, durability and decisiveness. Edge maintenance (sharpening) is fairly simple thanks to the flat mince and normal hardness, and daily honing and true sharpening techniques will help maintain its achievements.
Edge Restoration – Easy to Sharpening
Knife sharpening is correspondingly easy, both regarding materials and the skill needs to do so. The knife is not very dense, and the flat grind makes it proportionally easy to sharpen. Daily basis sharpening techniques and tools will help manage a knife's edge and extend its life.
Wear, Tear and Scratch Resistance
The knife's blade stuff and hand-polished finish contribute to its resistance to wear, tear and scratches. High quality construction makes sure that the knife is still in good condition even after huge use.
Strength, Toughness and Durability
The knife's full tang, forged construction, and high-carbon stainless steel blade ensure its power, decisiveness, and durability, ensuring a long knife life.
Corrosion and Rust Resistance
The wusthof knife has a high carbon stainless steel blade and provides great corrosion and rust resistance, ensuring the knife's healthy life and performance. The build quality is also excellent, with no visible cracks or chinks.
Edge Retention
As we already discussed in the above section , the knife may not come up to its guarantee of edge retention, but it still retains an edge for a long period of time. Regular honing and proper sharpening will help maintain knife performance.
Safety
Safety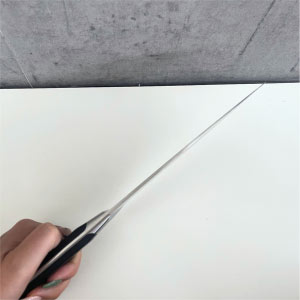 The wusthof classic 8 inches extra wide chef knife includes a number of protected features, such as a full bolster, silhouette handle, and full tang construction for steadiness and a stable grip. Moreover, safety ingredients such as round choil tip, handle guard and the edge of the blade are away from the user's fingers. It is a slightly heavier weight knife that has a well balanced and comfortable handle to reduce the lassitude related risks and make it suitable for users having varying skills.
Knives Safety Features
The knife originated with different safety features to make sure it was safe and used with ease in the kitchen. A full bolster provides more stability and prevents finger slippage, while a curve handle made of polyoxymethylene (POM) offers a comfortable and secure grip. The complete tang production also contributes to the overall safety of the knife, offering balance and control during use. The handle offers a supplementary guard on its butt for better control. The design of the knife shank (under the tip of the blade) is also extraordinarily secure, with a rounded tip, and away from the user's fingers.
Knives Less Safe Features
Although the Wusthof Classic 8-inch Extra Wide Chef's Knife is mainly a safe tool, its slightly enhanced weight can be reason for fatigue during the use of long periods, which can decrease control. although, the knife's perfect balance, comfortable handle, and efficient cutting performance help keep down this threat.
Value Estimation
The price of a wusthof knife is nearly 200$, That is a reasonable price for high quality material, getting great performance and durability. It is full tang forged construction, and high carbon stainless steel blade ensures its longtime life and dedication in the kitchen. It is a perfect option for doing different tasks and you can also use it for both professional and home base cooking. The manufacturers of wusthof classic knives are trustworthy and reliable. Entirely, the knife is offering a good worth in that price and also giving a genuine and versatile tool for all kitchen. It is quality noting that similar knives can be found at much lower prices.