While giving a look at this XYJ 6.7″ Serbian Knife the first thing you will notice about this beautiful serbian knife is its size and its precise construction.It's not that simple type of knife which you use while cutting an apple or peeling the skin of vegetables.
Basically its for any thing starting from chopping any ingredient to using while having some meal like serbian meal with your guests.Thats the main reason you would this beautiful Serbian Chef knife, because of its diverse functionality and its fun to use you will be whole heartedly satisfied with this splendid and perfectly manufactured Chef Knife.
General Information XYJ 6.7″Serbian Chef Knife
| Brand | XYJ |
| --- | --- |
| Price Range | $35-$45 |
| Manufacturing Country | China |
| Total Knife Length(in/cm) | 11.42/29.01 |
| Knife Weight Oz/Gr) | 21.44/607.81 |
Since 1986 this company with brand name XYJ has been serving people with the best .With its high qualtiy blades which provide you with a good balance while cutting and with refined practicality its really hard that you will be dissatisfied with this.All other products of their manufacturing offer the best with the price. The product will never be underrated and you will never feel like that its not up to mark.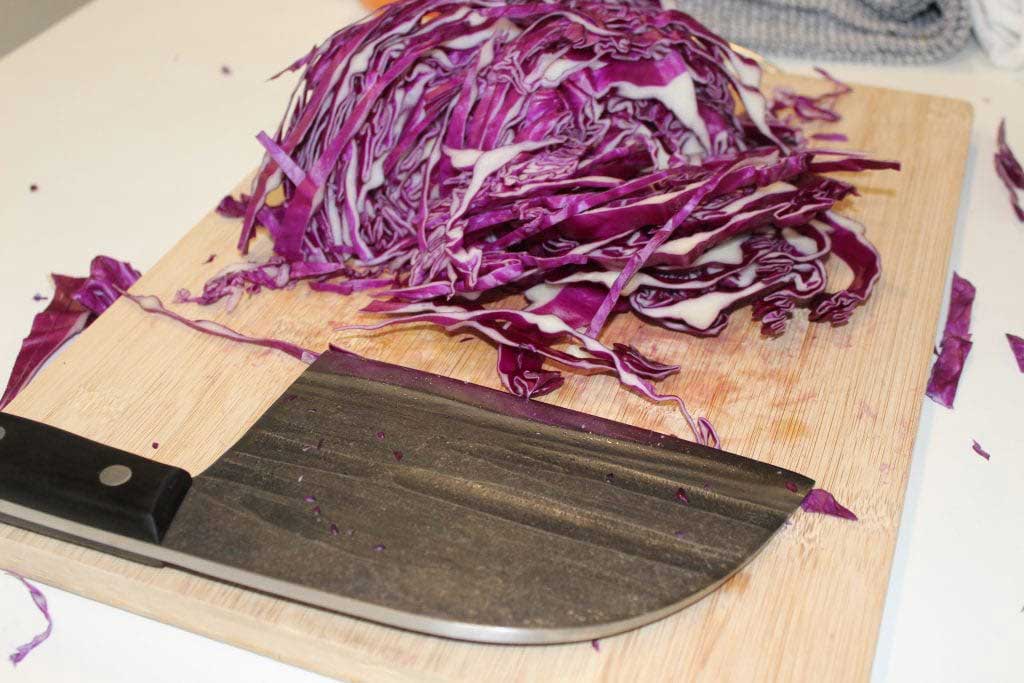 With this diverse XYJ 6.7″ Serbian Chef Knife, you can do anything you want.It will let you work with pretty ease and comfortable.While scrolling over the internet you will come across many videos of bush crafters and woodsmen with the XYJ 6.7″ Serbian Chef Knife on their hip.What i am trying to say is that this is the kind of knife of your need.You will need it for trail meals with freshly grown vegetables and meat. The good thing about this knife is its 6.7″ length and excellent height ,kitchen chores become much easier with this Serbian knife. You don't need to change the grip over the handle while working with it in the kitchen you will be able to prepare any meal with pretty ease and without being tired.There is no feeling of bulk while handlingit and it is comfortable to a great extent.
XYJ 6.7″ Serbian Chef Knife Unboxing
What a beautiful feeling and what a moment while unboxing this beautiful knife and cutting the tapes and removing the box while doing this you will feel a rush of happiness and excitement.After that you will take off the delicate over the blade that is the time you will notice the precision of its blade.You can easily grade it as a high qualtiy knife.Its high qualtiy forged blade is easily noticeable.Wether you talk about its design or about its colour gradient each of these character makes it a more stunning blade.Its easy to see that XYJ cares about product presentation.
If you are thinking of buying a knife with the intend of frequent use it is the best choice because its sheath is durable enough to meet the demands of continuous and frequent use.You can also do hunting with this knife to the same extent as compared to its kitchen use.You can use it anywherr and take it to any place in the world.You can do outdoor cooking with it.It can qccompany you on the picnic with your family.You can use it to prepare wonderfull meat lobes for your wife.It also come with cooking oil or mineral oil so that it can be protected against corrosion.
The Blade of the XYJ Serbian Knife
| | |
| --- | --- |
| Forged/Stamped | Forged |
| Blade Material | Handmade forged high carbon cladsteel |
| Blade Flexibility | Not Flexible |
| Blade Edge | Double Bevel |
| Straight/Serrated | Straight |
| Blade Angle | 20° |
| Balance | Well Balanced |
| Blade Length (Inches) | 6.7 |
| Blade Height(Inches) | 4.13 |
Everything you want in a knife is present in this knife.This is a handmade knife forged with high carbon steel,now this is what you want in a chef knife.Height is so good that it cuts easily any thick vegetable which you have in your farm or you buy it from a local grocery store.The sound of knife cutting the vegetable will make you feel like you are cooking something really delicious and when you represent it in front of your guest they will also feel special.They will feel gratitude towards you.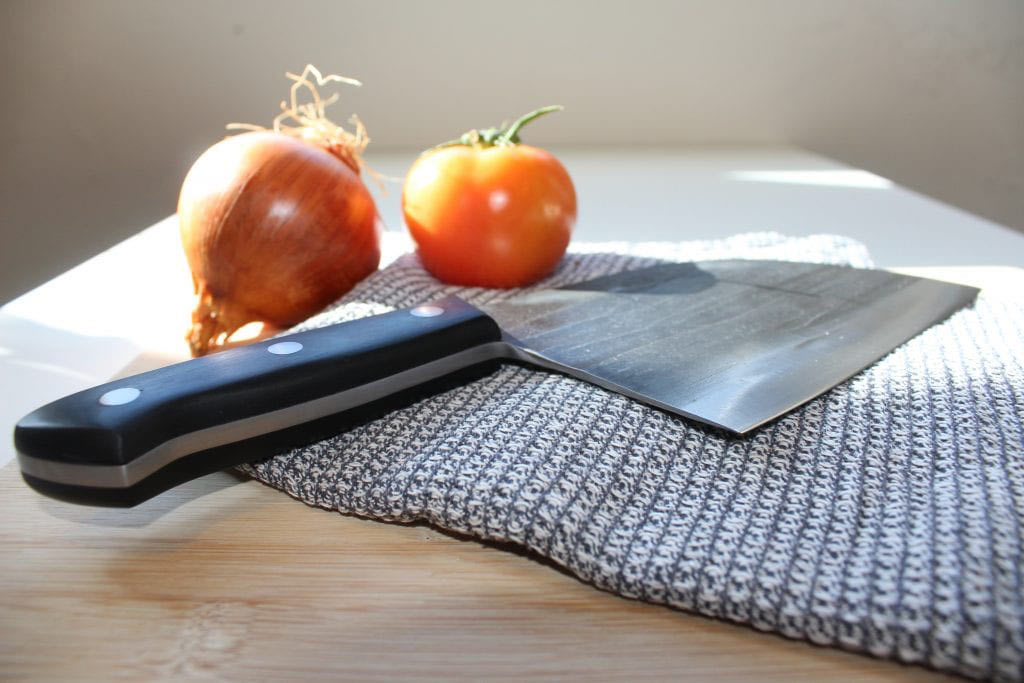 The amount of force required to cut vegetables,fruits or meat is minimal.You don't need to exert you whole wait while using.Its blade weight is very well balanced.Edges are not flexible,which is a good thing while dealing with meat and bones.One thing to take care is to apply cooking/mineral oil over the knife from time to time so that it may not catch rust and its durability remain steady.
The Handle of the XYJ Serbian Knife
| | |
| --- | --- |
| Handle Length(Inches) | 4.9 |
| Handle Feel | Ergonomic non-slip |
| Tang | Full Tang |
| Handle Material | Integrated steelshank+wood +rivet fixing |
| Handle Colour | Black |
We have tried our best to maintain safety protocol while making this knife.Even with bigger hands the length of 4.9″ gives you enough grip over the knife.
We have also included a boundary line over the handle guard to assist your grip on it and the material composition of the handle helps you have a solid grip and it avoids any slipping.Believe us,
you really don't want to have a cut on your hand due to mishandling.
Due to the sharpness of this knife the finger guard has more boundaries because this is a really fine blade as compared to others in its class.So while chopping and mincing smaller ingredients this extra guard helps you maintain control.
Bulk of knife is increased due to full tang but this weights adds up an increased balance while using it.That balance helped us be more comfortable with this Serbian Knife and use less effort.You might expect that its blade is small but its really large ,this helps you to have a good balance and with a balanced knife you won't feel the weight on your hand.
Uses of the XYJ 6.7″ Serbian Knife
This Serbian blade is genuine.Its not just the word of mouth,you will feel it yourself when you hold it up.You will feel like going deep into the woods and cutting,chopping all kind of hunted ingredients against a wooden stump.This is what we want you to feel while using this knife.All our efforts are just to make you feel satisfied with this knife.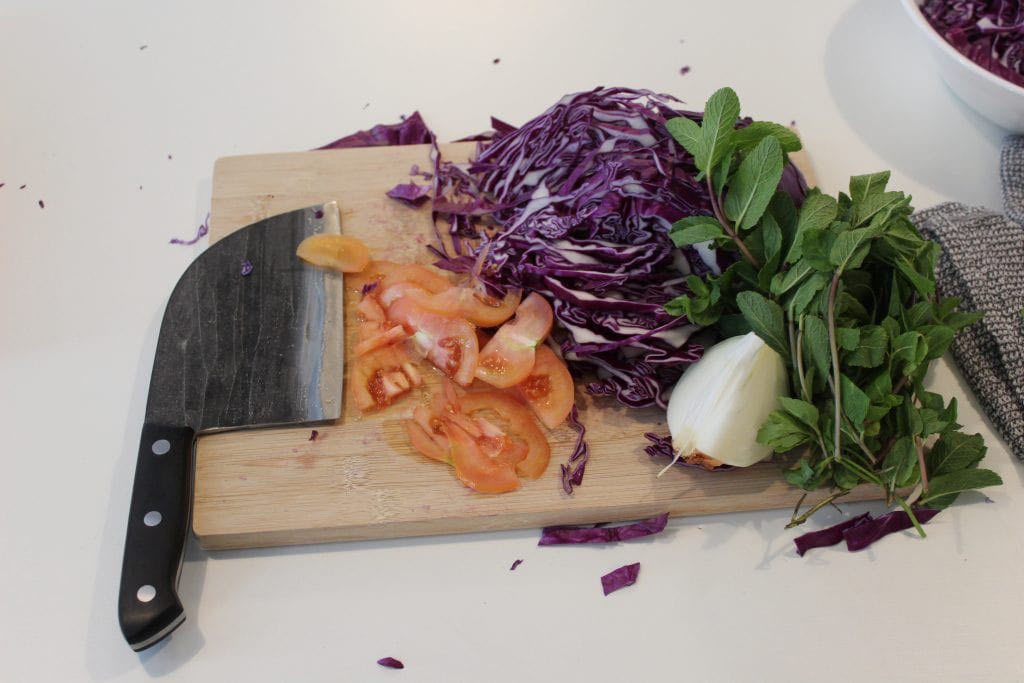 The XYJ works best for working with fresh chicken, slicing various raw meats like tri-tip steak, dismantling ribs between the bones, etc.
Ingredients like garlic or allspice, which you want to keep their juices, are incredibly simple to smash or crush.
It makes chopping vegetables for a side dish or fresh salad simple.
Maintenance and Cleaning
It's a high quality forged blade.For proper washing you need a tap with running water and some soap.You have to make sure that you dry it completely after washing it and dont leave it in open air as it may be subjected to rusting and stains may develop on the knife.
Mineral/cooking oil should be used regularly on the blade of knife,because mineral oil helps in smooth cutting with knife.You won't be able to find any irregular cutting pattern.In addition to this mineral oil also helps to prevent rust development on edges of blade.
The blade is sharpened up to mark and you will not need honing from time to time as long as you keep it in a leather sheath and handle it with great care and avoid dropping it on its blade.
Conclusion
At least once in your career, you must feel the pure joy of wielding a traditional Serbian knife. This rustic blade looks amazing and offers a ton of natural power for almost any use. So don't pass up the chance to purchase the XYJ 6.7″ Serbian Chef Knife if you get the chance!