Sometimes we are facing different types of issues while making the precise slice of catfish due to local knives which are just made for chopping veggies, potatoes, and other kitchen products. Some catfish enthusiasts refrain from buying it from the market because they do not have the right knife to clean and fillet it. If you do not choose the best knife for catfish, you will not be able to fully enjoy this delicious dish.
As we know, in this age of technology the competition is so fierce that it is becoming increasingly difficult for the average consumer to find a good and durable knife.
After in-depth study and expert review, we have selected the best catfish fillet knives that will be effective in filleting timely and fast manner. The purpose of assembling these fillet knives is to provide you with a comfort zone that makes it easy to prepare a group of catfish in a very limited time.
Best 8 Fillet Knives for Catfish 2023 Comparison Table
1- Bubba Cordless Electric Fillet Knife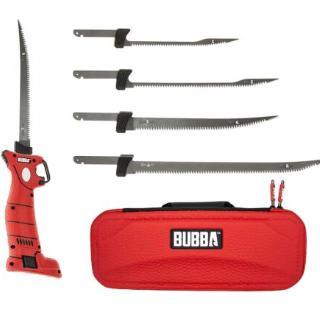 Bubba electric fillet knife is a great tool for preparing a catfish from head to toe. This cordless knife helps to make things easy. Due to its versatile design and durability, Bubba is superior to others in the market. In addition to catfish, it specializes in cutting and cleaning all freshwater or saltwater fish.
The bubba has a very high quality dual-rivet stainless steel blade that is capable of cutting catfish and numerous small and large fish in a better way due to its durability. You will be happy to know that tin-titanium Nitride Coating has been used in bubba to make the blade rust-resistant which does not allow the rust to come close for many years.
Interestingly, the bubba has four different sized blades that can be interchangeable as needed so that there are no interruptions in the work.
Its non-slip ergonomic design handle always provides comfort when you are passing through the most difficult phase of filleting. Other than that, The safety trigger on the handle keeps your hand safe if you are not an expert in cutting and preparing fish.
However, The LED indicator on the handle periodically informs you how much longer the knife will be able to serve.
Moreover, it has an elegant design storage case that carries each and every single part of the knife separately. The biggest advantage of this is that you can take the case with you without any hindrance in any type of adventure or solo trip.
Final Verdict:
This knife specializes in arranging complex objects. I personally impressed its durability and 2 hour continuous battery timing that are enough for maximum filleting of catfish in a single charge. Bubba is one of the best options for those who want to become an expert in filleting and cutting giant catfish.
2- Rapala Fish "N Fillet Knife
Rapala fish N is counted among the top 10 best fillet knives like bubba and kastking who are getting fame in filleting with their durability and long lasting sophistication. Interestingly, you will be capable of filleting and cutting catfish within a few minutes due to its super performance.
Furthermore, Stainless steel is used to strengthen the blade which is very sharp so that the user does not have to put extra effort while working. However, its tip is extremely sharp to separate the fish bones from flesh.
Its rubber texture handle is fit for all big and small sizes of hand. Also, its solid grip provides protection to the user's hand from minor and severe accidents.
The knife comes with a beautiful leather sheath that allows you to carry the knife with you on any adventure or tour without any fear. Not only this, its ventilation holes drain the extra water from the sheath and prevent the blade from odor.
Rapala has also added a sharpener to sharpen the blade after preparing the fish, which is rarely seen in most branded fillet knives.
Final Verdict:
According to my personal experience, I have been using this knife for the past 1.5 year for cutting Catfish, Salmon, tuna, trout and among other saltwater and freshwater fish. Its 6.5 inch long ultra-sharp blade is enough to handle giant-sized fish. It is highly recommended if you want to enhance your filleting from beginner to professional level.
3- Kastking Fillet Knife – Best for Catfish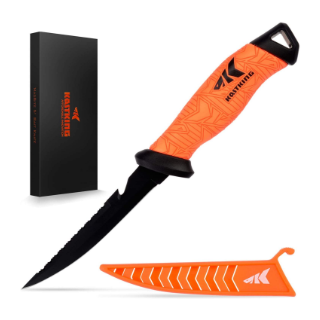 Kastking is a desirable tool for fishermen and chefs who love complete preparation of catfish, bass, crappie, panfish, and others. During its preparation, it underwent various testing steps to ensure that no deficiencies occurred. The combination of black and orange color makes it superior to other fillet knives.
The blades are made with German stainless steel that never compromises quality. Also, one of the great advantages of this knife is that it comes with 3 different blade sizes 6, 7, and 9 that can be used to fill and cut a variety of catfish.
Moreover, its lovely handle is made with a polymer texture that provides a strong grip even if your hands are greasy and slime. Also, it never gets your hand fatigued while cutting the tough flesh of catfish.
A protective sheath also comes in the package of a complete knife which is light in weight and keeps your hand safe from deep cuts. The lock on the sheath is added for maximum safety. However, the open slots on the sheath are designed to remove extra water So that the blades remain rust-free and useful for a long time.
Final Verdict:
The kastking is an overall best fillet knife for delicate and tough species. Its top-notch feature is its various sizes of ultra-sharp blades which can prepare every small and big size catfish quickly. However, this knife with its cool features is amazing in this price range. Highly Recommended
4- Rapala Heavy Duty Rechargeable Electric Fillet Knife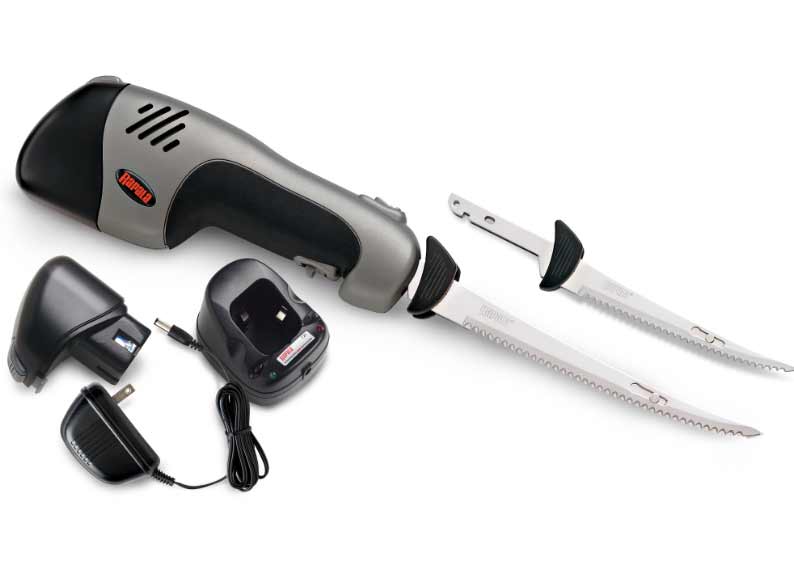 Rapala heavy duty is one of the safest corded fillet knives for preparing every size and kind of catfish. Also, This electric knife is perfect for chopping meat and vegetables in the home kitchen. Rapala has designed its powerful motor to do the toughest job of cutting giant saltwater and freshwater species.
Its 110V powerful motor provides twice as fast speed than other electric knives to cut the hard flesh of giant fishes like walleye, salmon, and tuna very smoothly. It has necessary open holes for airflow to keep the motor cool after continuous use.
Moreover, the relaxed grip handle keeps you cool while cutting the ribs and bones of the large catfish. Believe me, when you are biting a bunch of fish at the same time, it will never let your hand get tired.
Interestingly, it comes with an 8-foot long power cord which plugs into the wall socket and provides you maximum freedom of movement while working in the kitchen. This heavy-duty knife is beneficial for all indoor and outdoor use.
The mixture of black and gray color makes it pretty from other market knives. You can also give it to your spouse as a birthday and wedding anniversary gift for cutting several types of fish. It is very light in weight (0.5 kilogram) which allows you to work for a long time without getting tired.
Final Verdict:
According to expert reviews, this knife is a unique tool in the market whose capabilities are always appreciated. Most anglers and fishermen love to buy Rapala because its motor is twice faster and thrice powerful from branded electric fillet knives. Believe us, This is a product that lasts for many years. This heavy-duty is perfectly designed to work on thick bones and greasy skin. I give it a 4 out of 5 star rating.
5- Mister Twister Electric (Green/Yellow)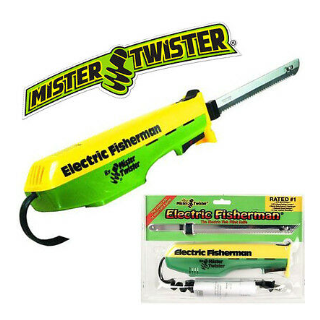 Mister twister is the perfect electric fiillet knife for beginners who want to cut the precious catfish meat without wasting it. Its 120V powerful motor can easily cut the thick bones of large catfish. Mister twister is a top-notch product to make your filleting operation smoothly and quickly.
Moreover, the versatile blade is replaceable and you can replace it according to your need. Also, its stainless steel quality keeps the blade secure from rust even if they are working in a wet environment from a long time.
The handle is designed to give a solid grip to beginners so that they can always work in a safe environment. However, the air-flow design on the handle keeps the motor cool even in the toughest filleting jobs. Other than that, Mister Twister added a safety lock on the handle for your complete satisfaction so that you can cut numerous species without any fear.
There is a little drawback, this corded knife comes with a short length of wire which does not provide proper freedom of cutting around the fillet table yet it is perfect for small flaws.
Our Suggestion:
I have tested Green/yellow mister twister for complete preparation of blue catfish and the result was awesome. It cuts ribs and bones very smoothly and precisely. One of the coolest features of mister twister is the safety trigger which is well designed and easy to push. Whatsmore, this is a rare product in this cheapest price range that can finish your fillet task quickly and accurately. highly recommended for those who are searching for the best fillet knife for catfish.
6- Calamus Fishing Fillet knife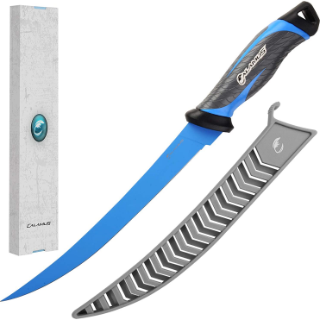 If you want to make beautiful pieces of delicious freshwater catfish then Stop your searching and take a calamus fillet knife. Its low cost and beautiful design have grabbed the attention of numerous chefs and fishermen. It is also one of the best options for steaking, boning and cutting saltwater and freshwater fish.
This bait knife comes with razor-sharp german stainless steel blades that can make your filleting and steaking job more efficient than ever before. The blue coating on the blade is added to combat rust for a long time.
Moreover, its different size of blade (5, 7, & 9 ) is useful for several tasks such as boning, steaking, filleting etc.
You will be glad to know that its anti-slip gold style handle is comfortable as a bubba and kastking fillet knife. Also, the handle will never get your hand tired if you will be working in the kitchen frequently.
If you want to use it for outdoor activities such as hunting, then the nylon protected sheath is well designed to provide effective protection. Also, The open holes in the sheath are provided for air circulation so that the knife does not stink after the preparation of the fish.
Our Suggestion:
We analyzed that this knife is perfect for cutting small and gigantic catfish with its extremely sharp blade which easily reaches the delicate part of catfish and cuts them quickly and precisely. The blade is super flexible to remove the skin layer of all saltwater and freshwater fish. The most feasible feature of the calamus is a vented sheath which allows the blade to dry completely after wash. Highly Recommended for chefs.
7- DALSTRONG Phantom Series Fillet Knife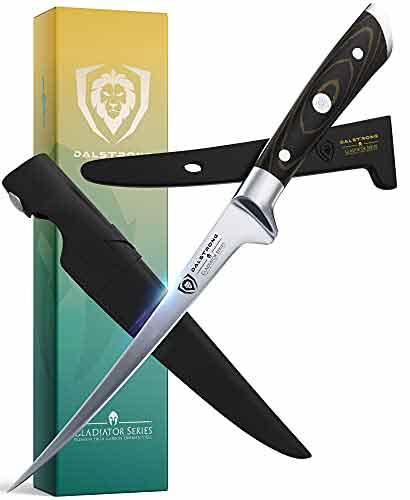 Dalstrong is a durable and precious fish fillet knife to cut delicate slices of catfish accurately which is suitable for chefs and anglers. It is the best knife for hunting and commercial kitchen use.
The black pannish pakkawood handle is designe for ultimate control on maximum freshwater and saltwater fish. You can confidently hold the handle because it will never slip even if you are working with extreme wet hands.
The razor-sharp blade is not as flexible as bubba and kastking fillet knives but almost ok for maximum filleting operations. Also, the edges are extremely sharp and can cut thick pieces of meat very smoothly and quickly.
Moreover, Dalstrong deals with various types and sizes of knives. It allocates a lightweight protected sheath that Maintains the performance of the blade and also keeps away rust for a long time.
Our Suggestion:
This is a perfect knife for home kitchen use on daily bases for cutting meat, chopping veggies, filleting fish etc. I'm personally impressed by its quality and sustainability. One of the wonderful features in dalstrong is the pinch grip handle which makes filleting operation easy like bubba and Rapala knife. On the other hand, there is a small flaw in it that it starts to stain after a few weeks but it is the best product overall in this cheap price range.
8- Danco Pro Series 9″ Fillet Knife
Danco pro is a next level fish fillet knife that is specially manufactured for big rockfish. Its eye-catching design attracts the attention of the user after which you are compelled to buy it. It can prepare a delicious catfish from head to tail very smoothly and quickly without facing any barriers.
It consists of pure German stainless steel which does its job cleverly. Its pointed tip specializes in separating the flesh from the fish spinal cord. Also, the blade comes in danco pro with Dupont Teflon coating that combats against rust in a lifetime. You can even wash it manually or in the dishwasher frequently without any fear of rust.
Furthermore, the molded grip gives users total freedom to do operations on any small or big catfish comfortably and smoothly. Even if you are using it continuously from the previous two hours, then its handle texture will not make you irritable. The handles are designed with the palms of the hands in mind to prevent them from slipping in every wet and dry environment.
The danco pro series 9 comes with a stylish and durable safe nylon sheath that protects consumers from any minor or serious accident that could cause bleeding. In Addition, the extra belt loop feature in danco is added to instantly catch the prey while hunting.
Final Verdict:
Dancro pro series 9 is manufactured with great quality and available in the market at a very low-budget. One of the desirable features in danco is its ergonomic dual texture handle that looks much prettier than other branded fillet knives. If you are testing different products in search of the best knife then confidently try danco I am sure it will not disappoint you.
Buyer's Guide to Buy Fillet Knife for Catfish
Do you know what features should be in your knife to fillet a catfish? If not, then follow our guideline to choose the best one for you from multiple options.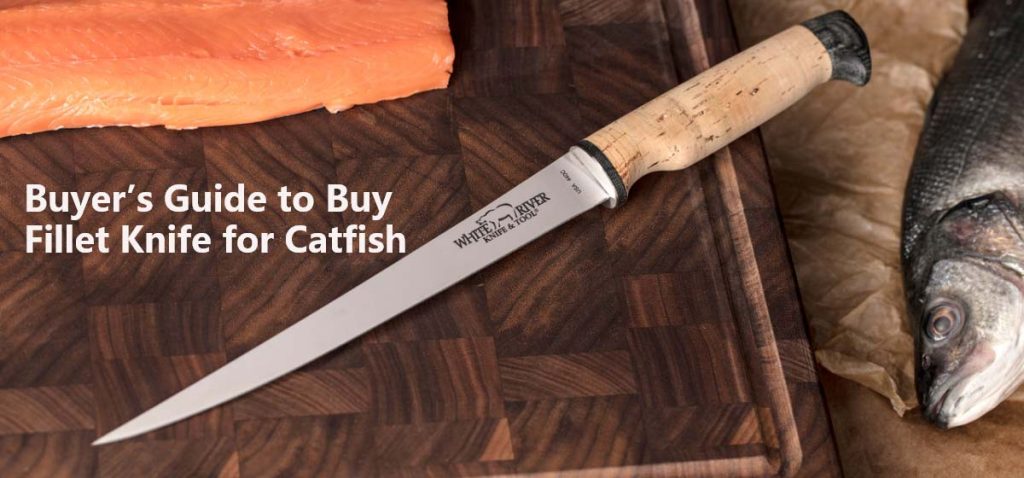 Blade
If you want to produce any type of catfish such as flathead, blue etc, then you should always choose a knife with a stainless steel blade as it has a high degree of durability. It does not need to be sharpened again and again like a simple fillet knife blade because it remains sharp for a long time.
In addition, the stainless steel blade has enough power to cut the ribs and spine of the giant catfish to make your job easier. Also, it helps to make precise slices of flesh without wastage.
However, the blade that can come out is better than the fixed blade because it is easier to clean after use than others.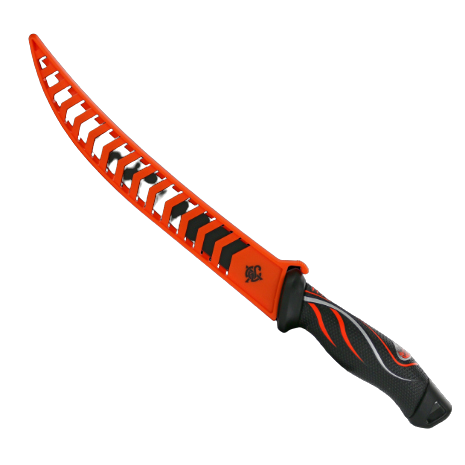 Handle
A handle should be your top-notch priority if you want safe filleting. Rather than, you'll have to deal with a horrific accident later, so choose an ergonomically designed handle that provides a solid grip to the palms. The handle should be light in weight so that your hand can easily control it and do multiple tasks at the same time without getting fatigued.
If your hand size is smaller than average then prefer polymer rubber texture otherwise it can be very difficult for you to handle the knife while cutting and filleting fish. In addition, these structural handles have non-slip grip that enables them to perform difficult tasks easily when things get out of control.
But if you prefer to go with an electric knife instead of a manual, be sure to check the vented holes for proper ventilation of the motor, otherwise the motor will overheat, which may cause you to have to stop catfish fillet operation again and again.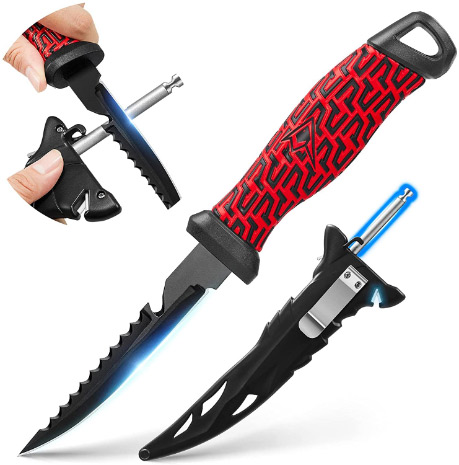 Sheath
A Protected sheath is essential to keep your blade sophisticated for a long time period. It enhances the life of the blade more than those fillet knives who come out of the box without a durable sheath.
If you have naughty children in your home, it is important to put the knife in its sheath after use as their small mistake can cause a big accident.The sheath is effective against rust and keeps your expensive knife blade safe from corrosion.
Moreover, choose a sheath that is durable as well as ventilated so that it does not stink.
Durability
A good knife is identified by the durable material used in it. The steel should be strong enough to dare to fillet the biggest catfish. Plus, it should have the ability to do fillet jobs continuously for 8 to 10 hours on a daily basis without breakage. You just have to focus on the blade and handle sustainability before buying a fillet knife.
Blade Size
The average size of the knife's blade to fillet a catfish is approximately 8 to 9.5 inch. This size of blade is enough to prepare a complete catfish, Halibut, Tuna, Codfish and much more without any effort. If you want to remove flesh from bones successfully then these sizes are perfect for you.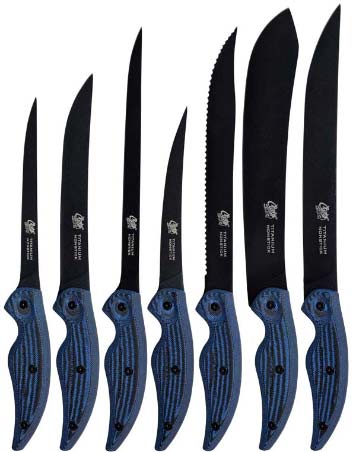 FAQs
Why Do We Soak Catfish in Milk?
The presence of saltwater and mud in their meat creates a foul odor which affects the taste. Therefore, they are dipped in milk for a while before cooking.
What Fillet Knives can Chefs and Fishermen use?
All of these knives are perfect for them which we have given a detailed review in the above article, But there are some other products that can be selected as well Wusthof Classic Fillet, Rapala, Dalstrong Gladiator Series, Bubba Blade Tapered Flex, and Zwilling J.A. Henckels Twin Four Star, etc.
Should We Use a Boning Knife to Fillet a Catfish?
Yes, but mostly a fillet knife is recommended for a delicious cut because a boning knife is not as flexible then fillet knife.
Can We Fillet Catfish With an Electric Knife?
Why not, It helps you to create the right pieces more than manual and gives you the courage to work longer. In contrast, manual knives tire your hands quickly.
Conclusion
Finally, we've summarized the 8 best fillet knives for catfish that will help you clean it up and make the right slices easily. Some of these are electric and rest of them are manual but the choice is your which knife would you prefer for filleting. These are all extremely sharp, comfortable, lightweight, durable, and very reasonably priced which put their best to make your filleting successful.
If you want quick and smooth operation on catfish then Rapala Fish N" Fillet knife and Kastking Should be your top-notch priority. The blades of these knives are ultra-sharp that can finish your catfish filleting process in a few minutes. Plus, their lightweight, comfortable handles prevent cooks and fishermen from tiring their hands while cutting and filling bunches of fish on a daily basis.
We hope that the questions that have been on your mind so far regarding choosing the best fillet knife for catfish have been resolved. So don't delay in choosing a suitable knife now.
---
Recommended for you