If your knife is not sharp enough as it should be then maybe you are looking for an easy way to sharpen it yourself. You can use a dremel tool for that purpose, it is the greatest way to get a highly sharpened knife. Following Steps will teach you how to sharpen and clean a knife with a Dremel but we will hope you will not try this with good japanese kitchen knives.
There are few items which we need to sharpen your kitchen knife while using a dremel tool. Again, try to keep everything as stable as possible, so you reduce the risk of any slippage or edge damage.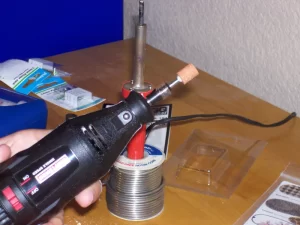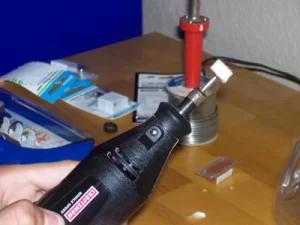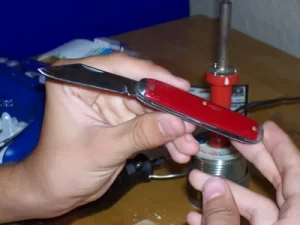 Additionally, we recommend you wear a thick shield and keep your work away from any sawdust where sparks could lift the steel and start a fire.
Use a Vice:
No one wants their knife to slip or move away from you while sharpening. You need a good vise to protect your fingers from injury. All you need to do is tighten the vise so that our knife hangs securely in place during the sharpening process. You definitely don't want the blade to accidentally move while sharpening with the Dremel.
Secure the Grinding Attachment:
Now put the grinding accessories to your dremel tool with proper safety so you can get a perfect angle for sharpening. Actually these accessories are what does the heavy lifting when you are sharpening the knife. You need to be very careful otherwise, when you start it and it starts spinning fast, it can fly right off the tool and injure you.
Sharp At the Right Angle:
For now your knife has secured in vice and the dremel has safely attached the grinding accessories. Next step is to start the sharpening, you can either do it at the angle of 25 degree or 12.5 degree. It's up to you. A 25 degree angle means you are sharpening only one side at a time. On the other hand, a 12.5 degree angle means you are sharpening both sides at the same time. Regardless of which angle you select, sharpening should begin at the base of the blade, where it is closest to the knife handle.
Begin At the Base of Kitchen Knife's Edge:
Start from the base of the kitchen knife's edge, close to the handle and then calmly move the dremel with the edge at the required angle.
Wait For the Metal to Cool:
You need to wait to cool before applying the second attempt on either side of the kitchen knife.
Polishing:
Once you've done your sharpening, the next step is to polish it. You can polish your knife with a Dremel with a polishing compound that you like to use. Remember that the Dremel is going to move fast. If your knife is not securely held in a vice grip, the blade is at risk of flying in different directions.
Best Dremel Kit for Sharpening a Knife
The Dremel tool is also called a rotary tool that is widely used in various workshops. They come with a great versatility and are useful for drilling, sanding, cutting, grinding, polishing and many other purposes. Plus, you can find a variety of affections or accessories for virtually any need around the house or in a professional shop.
The dremel 8240 12V Cordless Rotary kit is one of the best sharpening reviewed options available on the current market. You get high-power performance anywhere from 5,000-35,000 RPMs to design everything from smooth woodworking to sheet metal in automobiles.
It's easy to grip ergonomic handle provides smooth transition between different jobs and you can also get benefit for its long lasting battery life. The LED indicator tells when you need to charge it. It is a highly rated sharpening kit having stars 4.9 stars from 5.
Conclusion
Although, the knife platoon does not recommend using a dremel tool for sharpening a kitchen knife. Our goal is also to provide you with excellent information about knives. That's why the above steps are fast, so that you get the best result of doing it. If you really prefer to use a dremel tool then make sure to buy the dremel 8240 12V Cordless Rotary kit because it provides every essential thing that you need. Good Luck !