Today we will discuss the difference between the kiritsuke vs nakiri knives. Both knives are performing well in the right hands but still we need to understand the differences and similarities in both knives in order to understand we are using the right tool. In this article, we will dedicatedly explore the kiritsuke and nakiri knives. We'll cover what makes them different from each other, what each knife works well for and how to select the option that works best for you.
Kiritsuke Overview
Kiritsuke knives are a double edge variant of gyuto knife and it is also called a universal knife. Its flat and long blade looks like a small sword. There really is a lot of sophistication on offer with this type of knife. Kiritsuke knife is a great blessing for making long and exceptionally thin cuts on raw fish. To handle vegetables and other kitchen preparation, you can use this knife easily.
Shape
It could be difficult to use for less experienced people as it has a long and flat blade. And don't be surprised if there's a bit of a learning curve to get started. The incredible ideal blade is great for handling a whole fish filets and level of sharpness does not require again and again sharpening process.
Easy to Use
In ancient times, Kiritsuke knives were used only by experienced chefs. Things are often very soft at this point, but we still recommend getting some essential skills before spending money on it. The balance and length will take some getting used to and once you know what you're doing you'll be able to get a finer and more accurate cut. If you have never done this before, you need to struggle to gain some experience.
Single Bevel Sharpness
The single bevel version of the kiritsuke knife offers a wide range of sharp blades. This enables you to remove food while cutting in the same direction which gives you a more accurate cut and is easier to achieve. These knives also have a double bevel edge for cutting in a more western style of the more modern "Kiritsuke Gyuto " type.

Read Also >> https://knifeplatoon.com/kiritsuke-vs-gyuto-knives/
Kiritsuke Basic Statistics
Nakiri Overview
Nakiri knives are rectangular in shape having the feature of rounded blade tip. This thing also takes to the untrained eye that will closely resemble it with a cleaver than a chef's knife. It's just your imagination, it is more versatile as compared to other knives. Thinner and complicated cuts are easy to accomplish by nakiri knife. Furthermore, it is lightweight and easy to handle, which is the leading and key point of nakiri as compared to kiritsuke knives.
Hand Motion and Shape
The shape and design of most nakiri knives are great for the majority of the conventional japanese foods. In Japan during the Edo's era, it was not allowed to eat animals having four legs. Which tells us that vegetables, rice and fish are the main components of the Japanese nation's cuisine. Some of these reasons, nakiri knife is perfect for sushi, sashimi and other japanese recipes. You can also use it for preparing vegetables. It supports the up and down motion instead of west rocking motion as most of western chef's knives use.
Double Bevel
Most nakiri knife blades are double-bevel sharpened, as opposed to the traditional crisscross single-bevel knife. For this reason, it is also predicted to be easier to use for Western cooks but has a slightly lower overall sophistication and accuracy
read our relevant article :https://knifeplatoon.com/nakiri-vs-chinese-cleaver/
Kiritsuke Knives vs Nakiri Knives – How They are Different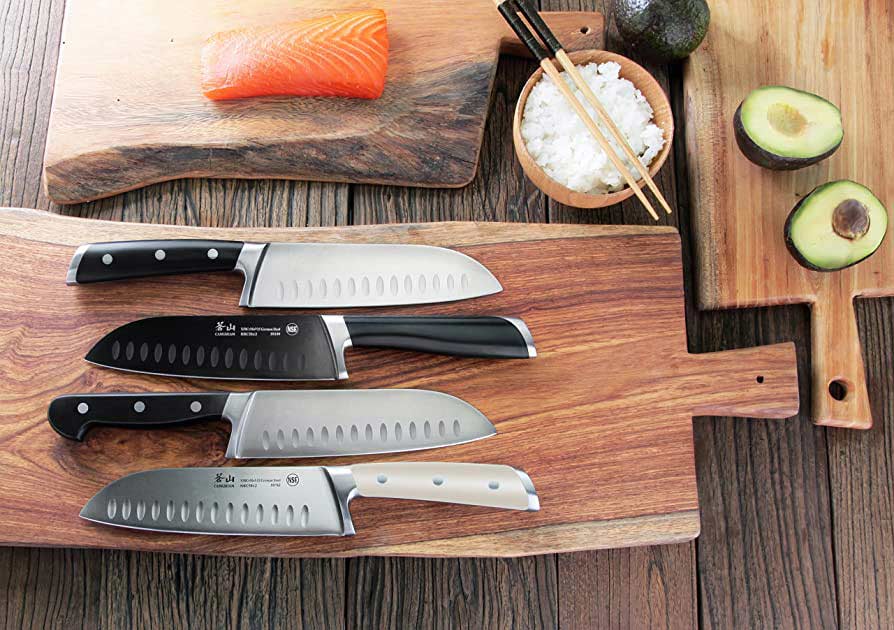 In start, a basic level of skill is necessary for using any type of tool and sometimes you just need to find the best gadget for the job. With this mindset, which one should you use, a Kiritsuke knife or a Nakiri knife? The kiritsuke knives are highly sharped and perfect for cutting vegetables and fishes, it is usually used by beginners. On the other hand, the nakiri knife is an all rounder knife and a nice choice for a casual chef. Moreover, it is also good for making a traditional japanese meal which includes fish slicing and preparing various types of vegetables and fruits.
Length and Balance
If we see their length and balance, the kiritsuke knives are 9.5 to 13 inches larger than nakiri knives which are 5 to 7 inches. You should consider this aspect in your mind before making any final decision.
Single or Double Bevel
If you are looking for sharpness and accuracy of a single bevel knife then you should go with a kiritsuke knife but if you have an essential experience and want a high versatile double bevel blade then nakiri knife will be worthy for you.
| | | |
| --- | --- | --- |
| Knife | Kiritsuke | Nakiri |
| Blade Length | 9.5 – 13 inches | 5 – 7 inches |
| Blade Thickness | 1 – 2 mm | 1.5-2.5 mm |
| Flexibility | None | None to some flex |
| HRC | 59 – 63 | 59 – 62 |
| Main Purpose | Long cuts of fish, vegetable prep | Japanese cuisine, general kitchen prep |
Which One Should I Choose – Kiritsuke Knives Vs Nakiri Knives
All rounder knives can play different roles in all conditions that's why we recommend nakiri knives. you want to make long, accurate and perfect cuts of fish which requires an extraordinary level of sharpness? Then you should use a kiritsuke knife.
Kiritsuke Knife Recommendation
Many people are fans of kiritsuke knife :
Mitsumoto Sakari 8-Inch Japanese Kiritsuke Chef Knife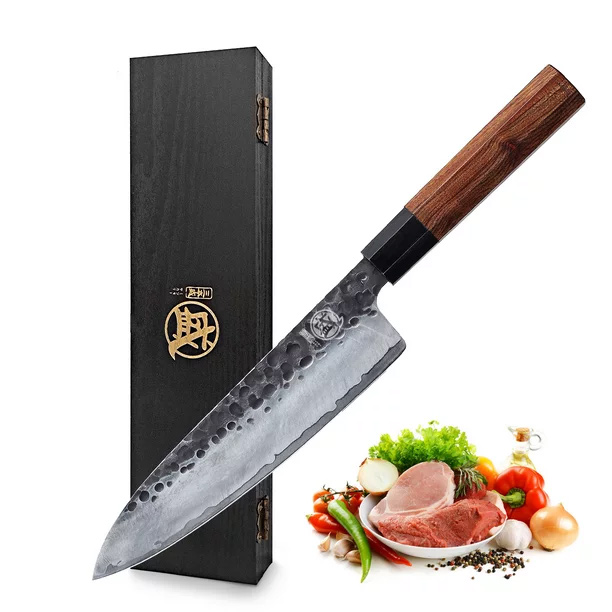 Balanced, overall performance, and lifetime warranties are all exceptions.
Nakiri Knife Recommendation
We are strongly recommended a nakiri knife :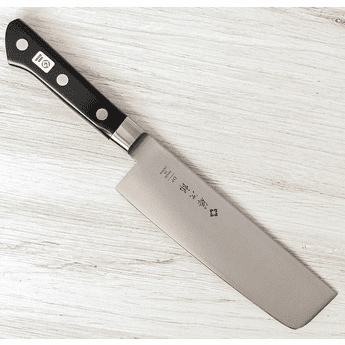 It is well balanced and wricked sharpened too having great performance, and lifetime warranties.
Final Verdict
Japanese knives are famous all over the world and many knife addicts want to try all types of knives. If you are one of those knife addictors and have conflict regarding Kiritsuke vs Nakiri knives then you can use both knives. Because both knives are highly performative and functional and previous all their users are satisfied from both knives.