Finding the best kitchen knife is not an easy task. You use them on a daily basis for performing a different task and you expect that it will last for a long time with great performance. But it is very difficult to decide which brand will be best for buying a kitchen knife.
Shun and wusthof are two best kitchen knives brands in the market that are producing high quality knives in this era. Both brands are manufacturing various knives with different features. You must study both brands' products before going to buy.
In this article we have provided the in – depth comparison of shun vs wusthof kitchen knife and also learn how they are comparable in term of
Sharpness
Warranty
Material
Design
Once you read the complete article you will know the similarities, differences, advantages and disadvantages of both knives's brand.
If you want to quickly look at shun and wusthof prices then you can visit amazon: Shun knives and Wusthof knives.
Shun Knives Overview
KAI is  a Japanese company which has been working in Japan and producing various type of kitchen knives and other cutlery products since 1908. The shun is associated with the KAI group and have 11 knife collection. Every shun knife has delicately handcrafted by expert stuff and pass through roundabout 100 steps. They mainly focus on their quality and craftsmanship. They follow the heritage and traditions of ancient Japanese Knives. The unique design and blade material of each knife make the shun knives more demanded in the current market.
Blade Material
Shun uses super steel called "VG-MAX", "Blue High Carbon" and "VG 10" for the manufacturing of their blades. It is highly refined, having superior edges and corrosion resistance.
Design
The designs of Shun knives are very distinctive and beautiful. They come with sharp edges, angles and perfect finishing. They made some of their knives by following Damas and put several layers of metals and alloys on the blade to make it good for kitchen work. Additionally, the handle is made of synthetic materials or hardwood composites and produces different designs of shun kitchen knives.
Wusthof Knives Overview
Wusthof have been working on knives in Germany for more than 100 years. They are making stamped knives and epicures and use a large sheet of steel for its manufacturing. They also make 6 lines forged knives that are passed under 40 processes in which knives are molded from a single piece of high carbon steel. Wusthof knives are of a high quality and more comparable to shun knives. If you are interested to learn about the differences between wusthof forged knives vs stamped knives then you can read our article. The wusthof knives use a unique and high quality material in their manufacturing process and they are perfected over 100 plus years.
Material
The Wusthof blade is made of high-carbon rust-resistant steel with a mixture of different elements that improve its hardness and durability. Handles vary by model but the most common material used is polyoxymethylene which has a rigid modular structure and is fade resistant.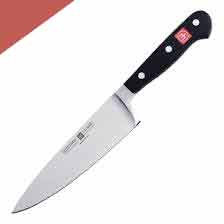 Design
Wusthof kitchen knives are designed for good performance, comfort and safety. These products have a full bolster that enhance the balance and prevent your hand from slipping while working with it. The full tang feature also adds sturdiness and sharpness in the knife. All knives have almost different and ergonomic handles for comfortable work.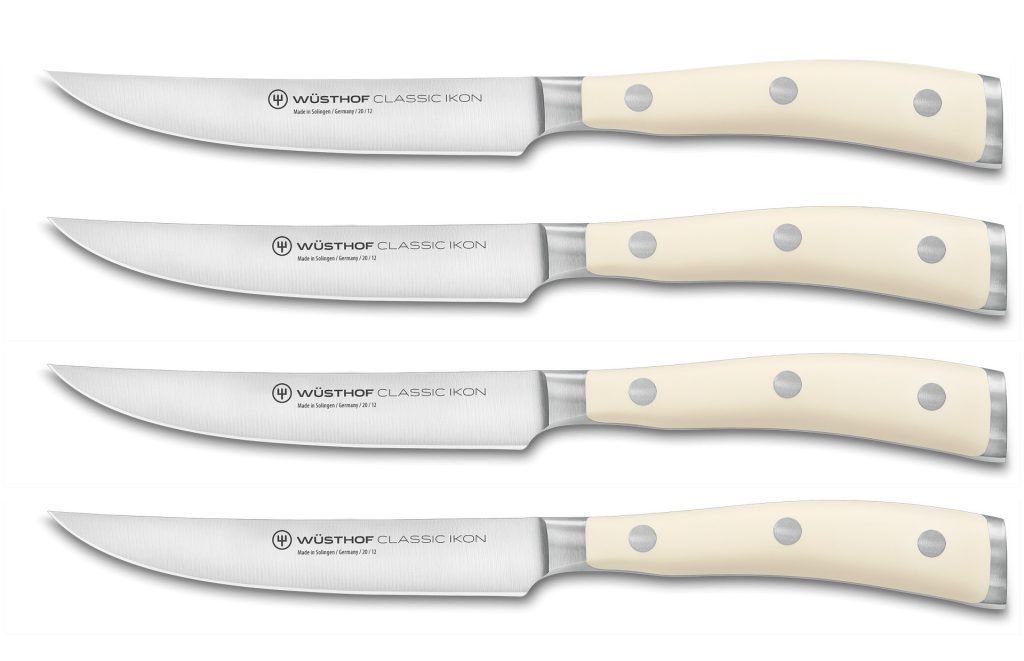 Process
Wusthof uses an advanced Precise Edge technology (PEtec) in their production process. It passes through 40 steps which give the superior sharpness and edge retention to the knife.
Shun vs Wusthof
Shun makes high quality Japanese kitchen knives that have very sharp edges and cut things at a 16 degree angle on all sides. Shun also makes Western and German stylish kitchens that are cut at a 14-degree angle with their sharp edges. Shun made his blade from hardened steel, which is generally thinner and lighter than Wusthof. Due to their hardened steel structure, Shun blades are more prone to chipping than Wusthof blades. But the Wusthof has a strong body and keeps its edge for a long time. Additionally, Shun has 11 types of knives with a unique Japanese design and all knives are high performance with a good look.
Wusthof has 5 different designs on hand which are very beautiful and also come with a western look. The bottom line is that wusthof and shun are the best knife makers in the world and have been in business and making money for a long time. Both brands of knives are slightly expensive. You can check the price of wusthof and shun on amazon. Your investment will be worth it because you will be able to use them on a daily basis and they will last forever. The big difference between wusthof and shun knives is how they look and how you feel when using them with your hand. Because styles vary so much, people usually have a strong preference for one or the other.
Rockwell Hardness
What is rockwell hardness ? It is the process of measurement that determines the hardness of material such as metal. It is usually done by knife's manufacturer, most kitchen knives' rockwell hardness fall between 55 to 60 and this is considered as an ideal range for knives. The hard blade can withstand sharp edges and retain it for a long time but it is less durable and gets chips as compared to softer blades. Blade hardness is one of the main characteristics that make both brand's knives different from each other.
Shun knives have rockwell hardness of 61 and this knife is considered the hardest blade in the market. Wusthof blades have a softer composition having a rockwell hardness of 58. The three-point difference doesn't seem like much, but it has an impact on stability and edge retention. Wusthof and shun blades are highly strong and retain their edges for a long time but if you see technically then wusthof are more durable and shun hold their edges better.
Caring and Cleaning
Every time when we invest in a high quality kitchen knife it always requires a great deal of them regardless of brand. You should use a soft cutting wood while using a shun knife because the other material like ceramic or plastic material may dull the edges of your knife. You should also use a smooth, back and forth slicing motion and avoid chopping straight up and down. On the other hand, the wusthof knife is more durable and already has a duller blade which is very grateful for combative up and down chopping.
Both shun and wusthof knives recommend washing the knives with light soap and water after using them in the kitchen. Dry it nicely in order to prevent the knives from corrosion. Lastly, they place importance on packing their knives in knife blocks or cases because other knife blade's edges or some other metal object can dull or damage the knives.
Warranty
Shun and Wusthof also give warranty about their products to be free from material or manufacturer defects with limited lifetime warranties. They give a lifetime warranty but these guarantees will not cover the damaging or other issue that arises due to misuse. If you are interested regarding the fine print and want to read the full warranty description then read the shun & wusthof on amazon.
Product line
There are various product lines of both brands. Wusthof has five product lines while shun has eleven. Below chart can describe the differences of both.
| | | | | | |
| --- | --- | --- | --- | --- | --- |
| | Blade Material | Handle Material | Edge Angle Per Side | Rockwell Hardness | Price |
| Shun Classic | VG-Max | PakkaWood | 16 | 60 | Check Price |
| Shun Hikari | VG-10 | PakkaWood | 16 | 61 | Check Price |
| Shun Premier | VG-Max | PakkaWood | 16 | 60 | Check Price |
| Shun Kaji | SG-11 | PakkaWood | 16 | 61 | Check Price |
| Shun Fuji | SG-11 | Tagayasan | 16 | 61 | Check Price |
| Shun KAI | Carbon Stainless Steel | Molded Polypropylene | 16 | 53 | Check Price |
| Shun Sora | VG-10 | Polymer Blend | 16 | 61 | Check Price |
| Shun Kanso | AUS10A | Tagayasan | 16 | 60 | Check Price |
| Shun Blue | Blue II Carbon Street Core | PakkaWood | 16 | 60 | Check Price |
| Shun Dual-Core | VG-2 and VG-10 | PakkaWood | 16 | 61 | Check Price |
| Shun Classic Pro | VG-10 | PakkaWood | 16 (single-beveled) | 61 | Check Price |
| Wusthof Classic | High-Carbon, Stainless Steel | Polyoxymethylene | 14 | 58 | Check Price |
| Wusthof Epicure | High-Carbon, Stainless Steel | Richlite (recycled wood fibers) | 14 | 58 | Check Price |
| Wusthof Ikon | High-Carbon, Stainless Steel | Grenadill African Blackwood | 14 | 58 | Check Price |
| Wusthof Classic Ikon | High-Carbon, Stainless Steel | Polyoxymethylene | 14 | 58 | Check Price |
| Wusthof Grand Prix II | High-Carbon, Stainless Steel | Polypropylene | 14 | 58 | Check Price |
| Wusthof Crafter | High-Carbon, Stainless Steel | Smoked oak | 14 | 58 | Check Price |
Which Should You Buy?
Both wusthof and shun are amazon which make it very difficult to take decision regarding which one should be bought. The wusthof is one of the best german knives while the shun is one of the best japanese knives. You will get a high quality knife with perfect performance regardless of which one you select. To make it easy for you to make a decision we have described the some main characteristics of both in the section below.
Shun knives will be best for you if you like a japanese style knives
If you like german style knives then wusthof will be great for your daily task.
Durability and sharpness come with wusthof knives
If you are looking for nice and sharp edge retention then move to shun.
A few years ago I went to the market to buy a knife myself and I tested both brands of knives and picked the wusthof classic knife because I thought that it was best for me. It was sturdy, durable and comfortable. Furthermore, I also love the black classic handle with the red trident logo.
If you want to see the current price, read the hundred of reviews and also learn about different amazing knives then you can visit our below links
---
Recommended for you