It does not matter whether you are driving a food truck and serving the hungry blebs at the market in Arizona or making a dish with the right tools for your family in an apartment in New york. The thing you want is the marriage of quality ingredients to be prepared in such a way that your food sings the taste of your hard work for your guest. Due to these reasons, Knife Platoon has provided a detailed buying guide for finding the best meat cleavers that can fulfill your needs. Now you can start to read our meat cleavers buying guide:
How to Select the Best Meat Cleaver For You?
The meat cleaver knife is different from other knives present in your kitchen. You can't say that, it's an accurate tool for getting clean and precise slices of meat. The meat cleaver is heavy duty, having a large blade that can be used for all types of items. By using it you will get a rough cuts but there are some scenario where we will need this such as:
Separated of large pieces of soft bones from the chicken or duck
Thicker cuts such as some steaks, crabmeat, and bayonets
Cutting of hard vegetables such as large sweet potatoes, beets, or other thick root vegetables
Other preparation work that requires handling large ingredients such as stews, salads, special dishes, or large cuts of meat.
Although meat cleaners are not intended for use with:
Preparing a thin slices of meat for presentation
Cutting of frozen, hard and solid bones
Removing of bones from fish and other relevant knife tasks
Finding the best cleaver meat knife for your knife depends upon your presence and how you will use the blade. Many cooks who focus on French or Asian use meat cleavers as their blade of choice, while others use them only as tools. It does not matter for us, we will deeply explain the method of finding the best meat cleaver for requirements and conditions. We do our best to cover all aspects of a quality meat cleaver and how to choose the features that will improve your kitchen capabilities.
How Much Does a Meat Cleaver Cost – Price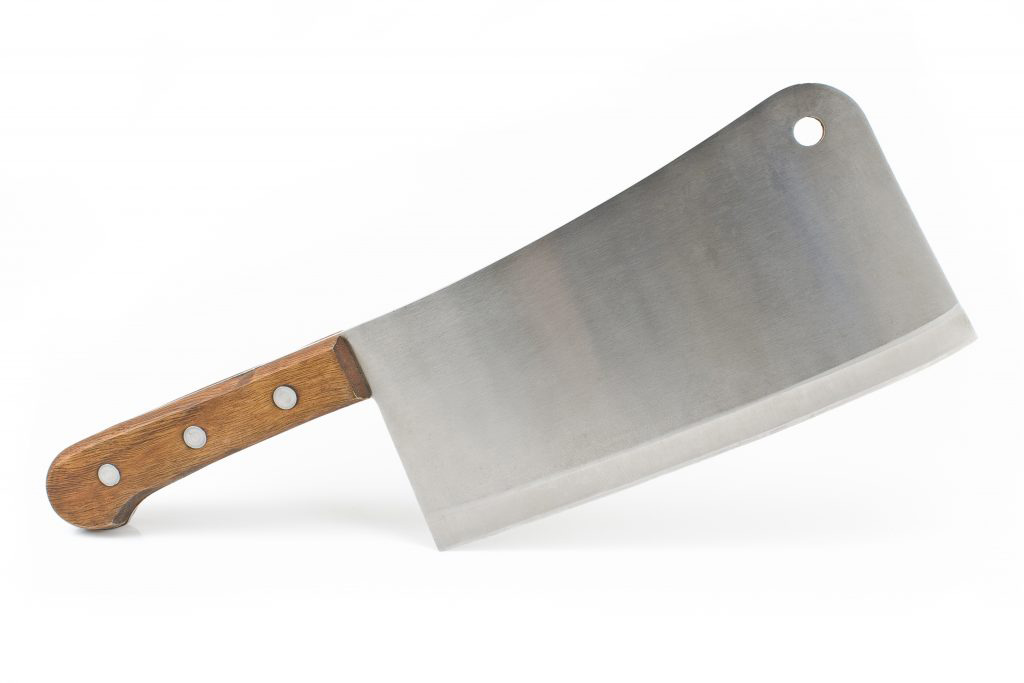 The prices of meat can vary widely such as You will find some from commercial brands that will provide you in $15 to $250 which will be the same German or Japanese made, full tang beauty knife. The main resolutions are how the blade is manufactured, what material is used in its production and what about the sizes and overall designs. You will find a good quality meat cleaver for personal use in the kitchen in the range of $49-$125.
Is Meat Cleaver Worth It?
The meat cleaver will be very worthwhile if you use various things in your home or profession which need chopping across the heavy, dense and thick pieces of meat and veggies. Furthermore, it looks very beautiful when you hang it on the wall next to your other knives. It's like a sign to all your visitors that they're coming for a treat when you host a meal.
The Length and Weight of Meat Cleaver – Dimensions
The main purpose of a solid mat cleaver is to separate large elements. If you don't have the length and weight to achieve the speed you need to cut, you can also order it.
The Length of Meat Cleaver
The complete length of the meat cleaver is measured from the start of the handle to the end of the blade. Simply, you need a handle which fits in your whole clenched hand without rubbing 6.5-7.5 inches (16.5-19.05 cm) against the edge of the blade and the length of the knife. Too big, and it will feel clumsy, too small, and you won't be able to cut the ingredients you want to utilize.
We should also identify a precise feature that buyers may not understand at first-time. The length of blade is necessary for blushing and striking the ingredients into the dishes. For Western or Asian-inspired cooking, you'll want a cleaver about 3 inches (7.62 cm) high.
What is the Best Length for Meat Cleaver?
For our money, we'd stick with a medium-sized meat cleaver with a blade length of about 6.75 inches and a height of at least 3 inches. This size will give you a more versatile product in your home and enable you to handle the heaviest ingredients out of a real full size animal.
The Weight of Meat Cleaver 
As with length, you're looking for a blade that's heavy enough to handle most of the work of chopping large ingredients, so your hands and wrists don't tire from heavy meals or replicate use. A 6-inch blade will be considered from 10 ounces to a pound like 283.5 to 453.6 grams and may feel a little lighter, while an 8-inch blade can force you to think about up to 2 pounds such as 907 grams and It will feel heavy you are trying to hold the flag in your hand.
What is a Good Weight for Meat Cleaver ?
From handle to blade, the total weight of meat cleaver is something from 15 ounces to 1.3 pounds that is 425.2 to 553g. This will give you sufficient load to help with those difficult cuts without putting too much force on your amputated arm.
The Meat Cleavers Blade
The holes in the meat cleaver blade make it unique. Between a strong belly that can quickly handle the cutting elements and a decent inclination to cut, the way your blade is designed will make a significant difference in value and handling. It has a long curve at the top of the blade and the blunt end of the blade extends from the handle. Under the belly, there is a hole and then a real sharp edge with a point tip and a heel at either end. Let's move on to go into a bit more detail regarding the meat cleaver blade.
What is the Difference Between Forged and Stamped Blade for Meat Cleaver?
The forged meat cleaver has full and partial or tang blade which means the blade material has extended to handle. As we know, forging a knife is a time taking task and requires more money as compared to stamping. This results in a final product that is intended to be of perfect quality and made from a single piece of steel. While the stamp blade is made by cutting a large sheet of metal into the specific pattern and after fixing it into the handle. Usually it tends to be full tang. Furthermore, there is also a composition of stamp and forged cleaver meat knife available in the current market. For most knives in your repository, a combination of forged and stamped is fine and, in many cases, the best choice. The only reason that brings hesitation while the selection of meat cleaver is needed is the force and momentum applied to the blade for making thick cuts. This is also a main reason for recommending a forged blade instead of stamped as it is a durable knife that everyone wants.
What Material Should a Meat Cleaver Blade be Made of – Blade Material
The material which is used for making meat cleaver tells the durability, weight, sharpness and cleaning methods of the knife when you get done your work after using it. Every metal has its pros and cons.
Carbon – It is a mixture of carbon and iron that can rust quickly if not cared for. It is more durable and easier to sharpen than other metals.
Stainless Steel – this material is smoother and has a more shining appearance and less chances to get rust. It is made of soft material and cannot get sharp for a long time.
Laminated or Damascus Steel – it combines two or more alloys and usually has beautiful wavy lines. The main advantage is that the blade is pattern welded and is generally stiffer than other blades.
Ceramic – it is made by zirconium oxide and these blades are very hard and sharp, almost fraudulently. Its sharpness lasts for a long time and comes with high prices.
Titanium – It offers the same sharpness as medium level steel but does not have the corrosion problems of other metals. You will find many divers using titanium knives for safety in seawater.
Our choice will be a combination of a few methods. If you can find a decent ceramic with a heavy enough weight, that's always a good choice. Otherwise, a high carbon stainless steel combination with a full tang is a great option.
Should a Meat Cleaver Have Flexible Blade
When you need to work with complex cuts and break the bones then the blade flexibility matters a lot. Normally you don't want a lot of flexibility while working with a meat cleaver because you're cutting heavy things and require the blade to land exactly where you want. It is a composite heavy task performer knife and requires to be treated as such.
How Thick/Dense Should a Meat Cleaver Blade Be
Most of the western style meat cleaver knives come in the range of 13 degree to 25 degree from the lead of cutting point to top of spike. If you have experience of doing asian cooking then you may need a thinner blade for almost all ingredients. But in general, sticking to 15-17 degrees for a well-balanced cooking blade is also a great practice. As we know that thickness matters a lot to do with overall weight, and you want something that feels good in your hand.
Tang
Tang steel material is the second most important part of the meat cleaver you choose. A single-tang blade is slightly extended in the handle, but for money and safety considerations we always recommend a full-tang matte cleaver. You need weight, pressure and downward motion on this heavy-duty knife to ensure it doesn't snap on the board.
HRC
The HRC score measures the hardness of the blade and what material is used inside it. The ordinary kitchen knife used in our daily life has 52 to 54 HRC score while the premium blade has 59 to 64 HRC score. The cleaver are heavy duty tools that have a lot of misuse in professional kitchens. Perhefs, you should look at things having the HRC rating of 54 to 58 for the safe side.
What Edge Should a Meat Cleaver Have – Edge Profile
Edge profile is a real masterpiece of meat clever design. Each edge set makes a variation with the basic cutting you will do in the kitchen. This feature also plays a vital role on how long your blade will remain sharp for working. Generally, the smaller the bevel, the sharper the blade. For the most part, you can expect to find edge outline like:
Double Bevel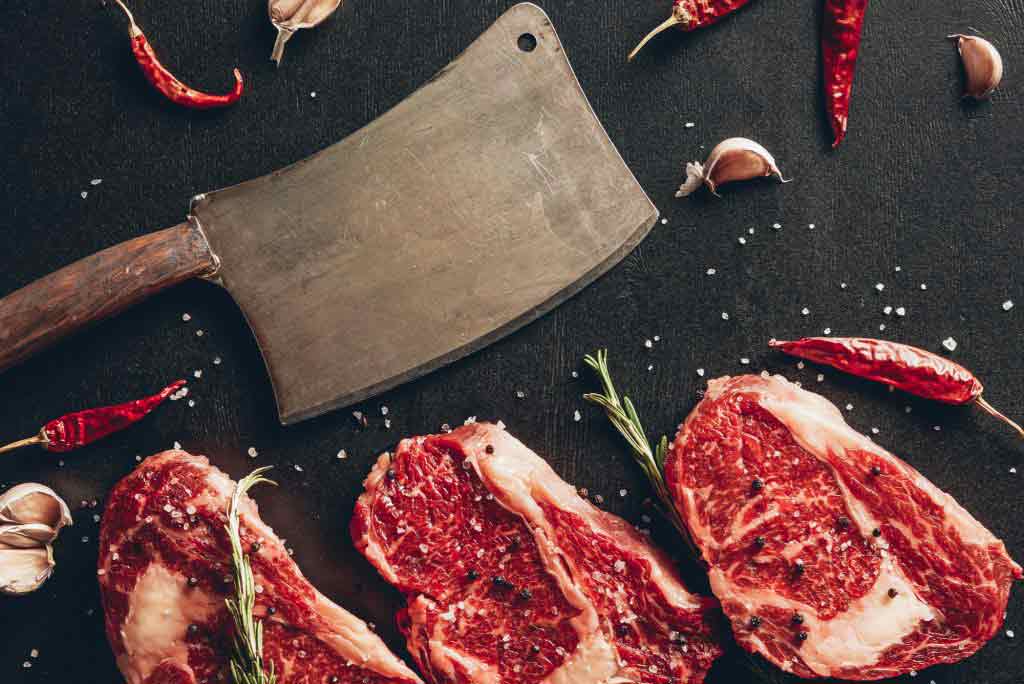 A one-degree angle is formed on either side of the blade. It's a normal V-shape, as you will see in european made blades and is designed for complicated cutting without accurate work.
Convex Edge
Even so, it is made with only one side of the edge being angled and sometimes it's called a chiseled edge. This blade is extremely sharp and we can't apply more force on it. If you are going to buy such kind of cleaver then you are most likely use it in sushi work, asian kitchens and butcher shops.
Chisel Edge or Single Bevel
This edge is slightly rounded and tapers off to fine points for actual cutting sharpness. It provides great durability and less drag during the cutting and enables you to sharpen it with ease.
The Handle of Meat Cleaver
The handle of the meat cleaver is a very important factor as it enables you to grip the handle strongly while working. The vibration of solid cuts may clash the complete presentation and quality of your product. You need a slightly angled bolster with a tapered bunt that will allow your whole hand to grip the handle if required. If you have a frozen thing then there are chances of reflecting the metal of the tang.
Size – your complete hand should be able to fit on the handle.
Comfort & Grip – the appropriate design with high quality steel mixed with premium plastic are perfect selection because you need something which helps you for cleaning and reduce the effects of vibration and cut.
Material – Do not handle wooden materials, always use metal, plastic and a combination of the two that will allow you to maintain your grip as the wood will eat away all the flesh after a while.
Design – We like some of the curved handles where you'll rest your fingers for extra grip capabilities.
Balance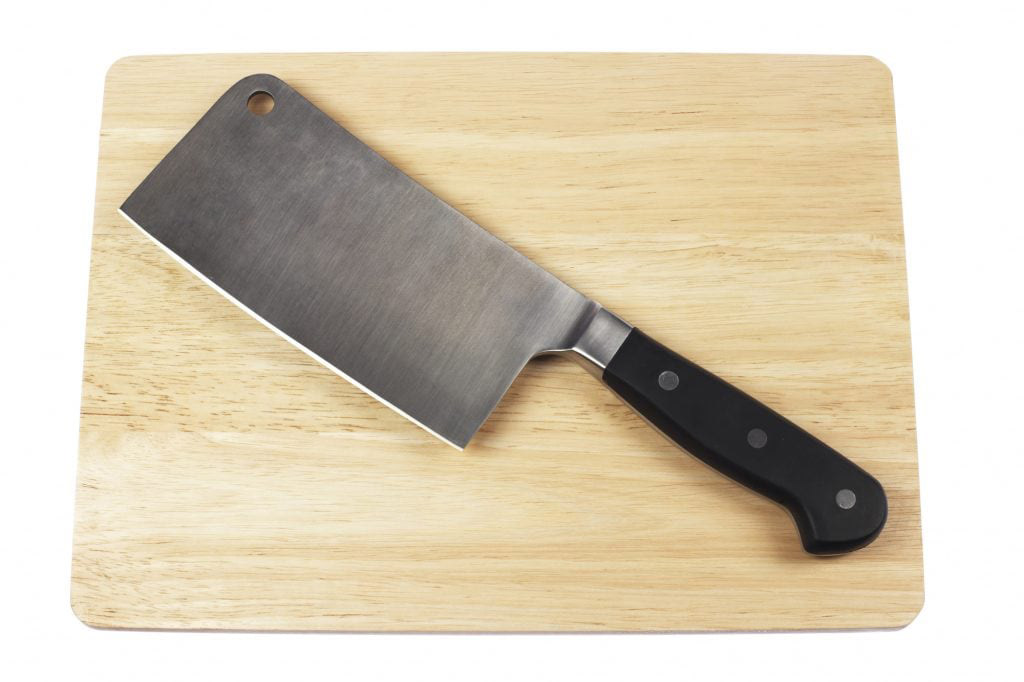 This is a bang multiplex feature. A good blade always has an extended handle to balance the bolster side of the blade. Some people want a heavier blade than a handle while other kitchen knives find something in the middle. Lastly, you should look at the blade having 35 to 50% of length of handle. Unless you do a lot of Asian cooking, a shorter handle is acceptable because the heel of the blade has a lot of swinging motion.
Maintenance and Care – How to Maintain a Meat Cleaver
All the time, meat cleaver use raw material which can cause bacteria and damage the blade of metal. You need to keep your meat cleavers in tip-top shape if they're going to perform during cooking. This also means not leaving your blade to soak in water.
How to Clean a Meat Cleaver?
Various materials are available with different cleaning methods which are mostly included in the framework or manufacturer's guide about meat cleavers that you receive while making a purchase. Use a little bit of hot water with soap to clean the knife and then dry it completely after washing. Don't stay water on the blade for too long, as it can damage the blade's integrity or sharpness.
Are Meat Cleaver Dishwasher Safe Method for Cleaning
If your knife have a ceramic blade then dishwasher method will be safe but still we doest recommend it for both material durability and safety for you and your family. The best way to do this is to wash your meat cleaver by hand and then dry it thoroughly.
Honing and Sharpening your Cleaver & How to Keep Sharp It
The rule of thumb is to sharpen your blade with a sharpening steel as this prevents removing any material from the blade in the complete process. Sharpening steel used in a vertical position will improve the edge rather than remove the metal. Sharpening of blades also depends upon what type of material, like sometimes it needs to be sharp after every month and sometimes it needs to be sharp after every 6 months.
Read Now >> How to tell if a knife is sharp
How to Store a Meat Cleaver?
As the Meat Cleaver knife has a hole inside the blade, the best way to store it is to hang it by its hole. We can't stress this enough – a meat cleaver is a seriously sharp, heavy-duty kitchen tool. Do not place meat cleavers where children can reach them as it is one the major part of meat cleavers guide. Furthermore, Using a storage block or magnetic bar is fine as long as it is out of reach of small children. You also need a clean and dry place where water can't collect or stay on the blade once you've cleaned it by hand. Also, rust prevention is an important point.
Conclusion
In the end of the meat cleavers guide, we will say that it is an excellent blade in your kitchen. It has the capability to cut down the ingredients on time and help you to prepare tasks and a lot of enjoyment to great while cooking in an asian kitchen. No doubt, finding the best cleaver for your everyday use will vary depending on your objective and personal preferences, but this guide provides plenty of insight into what attributes you should look for in your purchase. It does not matter with all these things, you should just use the knife and make different dishes for yourself and your family and enjoy it.